Here are the pictures of Vivi's nursery, all finished: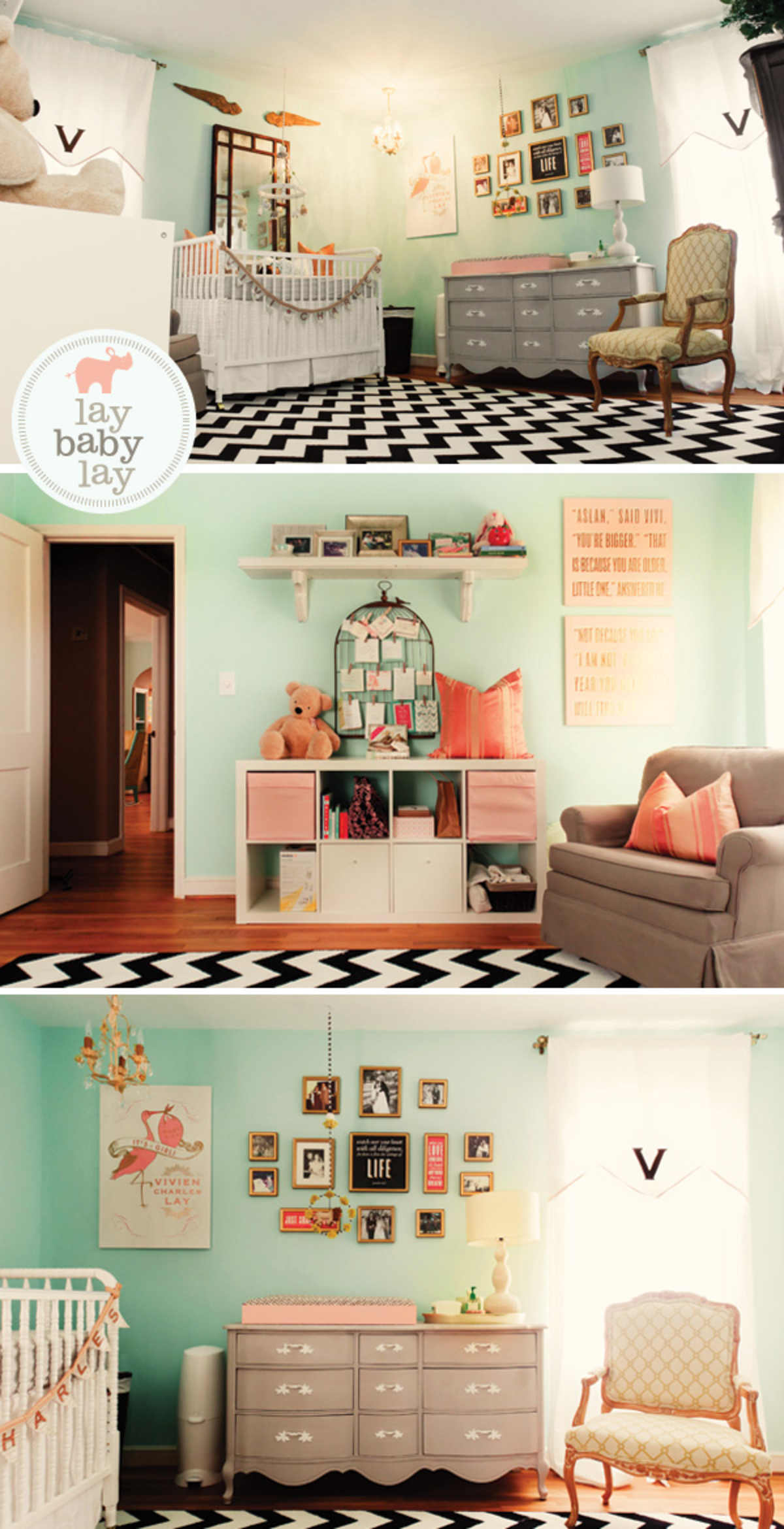 Shown is her white Jenny Lind crib, a large mirror behind her crib, and the plain white curtain panels, which are finished with a faux valance panel complete with a gold velvet "V."  While I wasn't able to find a chinoiserie chandelier within my budget, I found a pretty gold one from One Kings Lane on super sale, and I think it is perfect for the space!  Below are some of the details (see the links in the right margin by the top of this post to find where these items can be purchased).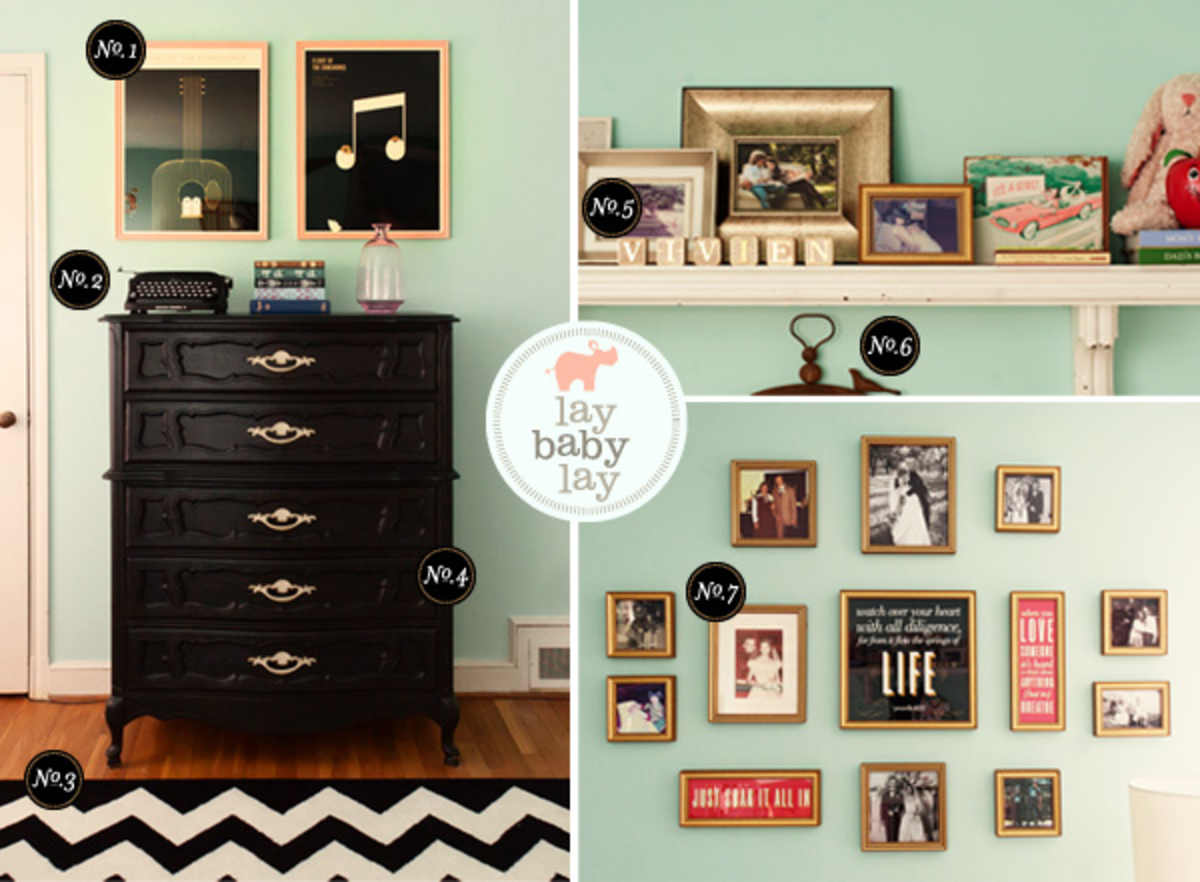 The images above the black chest are "Flight of the Conchords" posters from Jason Munn (one of my favorite poster designers!).  Her room wouldn't be complete without some of his work, as I have become somewhat of a super-fan.  The typewriter was purchased on a whim from Redefined Home Boutique in Atlanta (thanks to a ScoutMob deal).  I loved the curvy, retro shape, and it makes me happy.  I also hope little Vivi grows to have a fondness for words and books, so I find it to be appropriate!  The black chest, as well as the grey dresser (which my father kindly built a changing "tray" for) were found at Livi & Co. in my hometown for quite a steal.  The black and white zig zag rug was found online for a deal, too, and while the proportions are bigger than the Weinrib rug, it is a great solution, and the quality suits the space.  I won't be holding my breath every time something gets spilled or smudged on it, and the crisp pattern makes the room!
We found the large white shelf (as well as the angel wings above the mirror) at Scott's, and finished it with some details from our childhood.  Pictures of myself and my sister, Chip and his brother, and some childhood books are sweet reminders to both of us.  The "it's a girl!" box held the cigars handed out when I was born, and I love the adorable graphic on it!
Lastly, one of my favorite parts of the nursery are the photos and images above the changing table.  I used it as a family tree of sorts - Chip's family is on the right, mine is on the left.  I tell Vivi about each family member - some of which are no longer with us, so she knows about her heritage and those who love her most.  The verse in the middle is special (Proverbs 4:23), because her name means "Life", and the quote to the right of it is from my favorite Fruit Bats song ("When you love someone, it's hard to think about anything but to breathe.")  The quote on the bottom left says "Just soak it all in", which is a piece of advice given to me by my grandmother during a God-given conversation I had with her during some of her last lucid moments.  She told me to "just soak it all in, because it goes by way too quickly."  I have repeated those words to myself over and over since then - when I got married, when I launched out on my own to start a business, and with the birth of Vivi, not to mention a thousand other seemingly small yet precious moments.  It serves as a reminder to myself as I change stinky diapers and console cries that this truly is only a very brief season, and I know even at my weariest moments that it is one I will look back on with extreme fondness many years from now.  I try to treasure up each sweet cuddle in my heart!
And now, the best part!  Below is the little sweet pea herself - on her one month birthday sprawled out on her chevron rug: