shared room inspiration
with the land of nod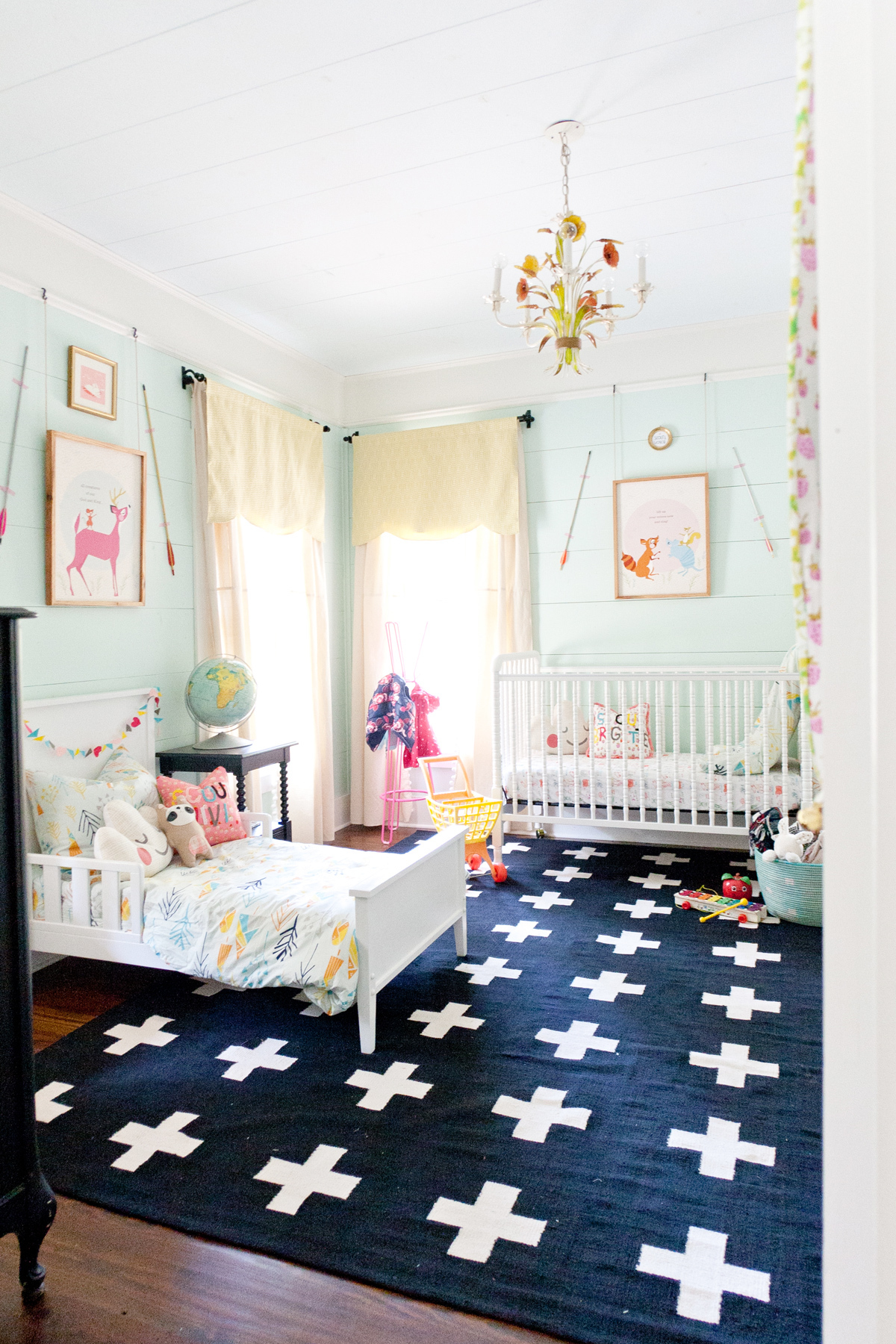 It seems that by far the most requests I receive for inspiration are for shared rooms. Our family has a farmhouse on our family farm where we spend a good bit of time, so I thought it would be a fun project to create a shared space for Vivi and Brigie that will hopefully also serve as inspiration for those of you looking to do something similar. I know they are both girls, but I don't think it's too much of a jump to make this room a bit more neutral or boyish to suit your needs (in fact, all the bedding is boy bedding!). I have to say this has been my favorite project thus far, and I think Vivi is just as in love with it as I am (a sure sign of a success!). I'll list applicable sources after each photo, as well as in the pink margin. (Union Rug; White Jenny Lind Crib; Pink Coat Rack.)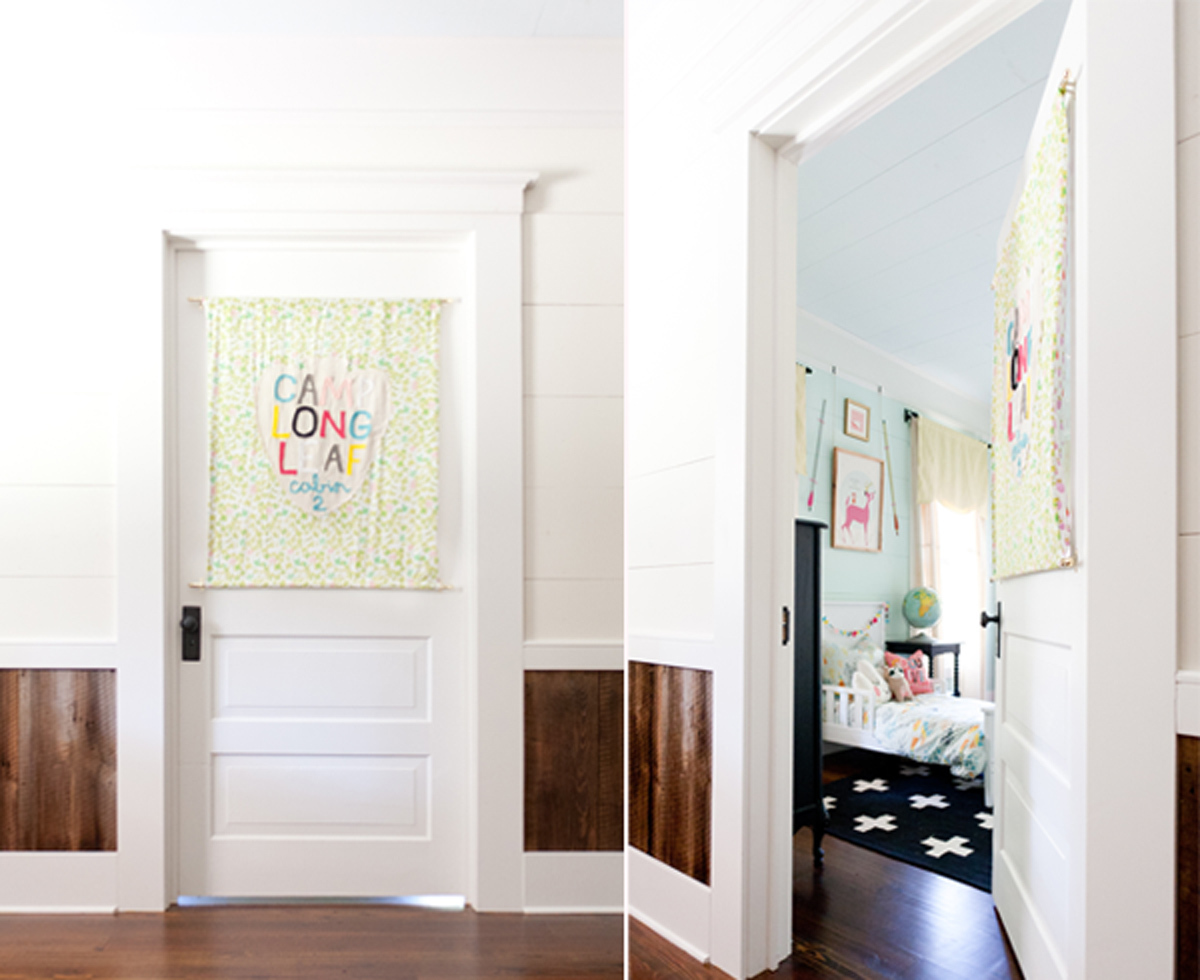 The door to the room came from the house where my great-grandmother grew up. The fact that it has a window makes it extra fun; I love being able to peek in during naptime!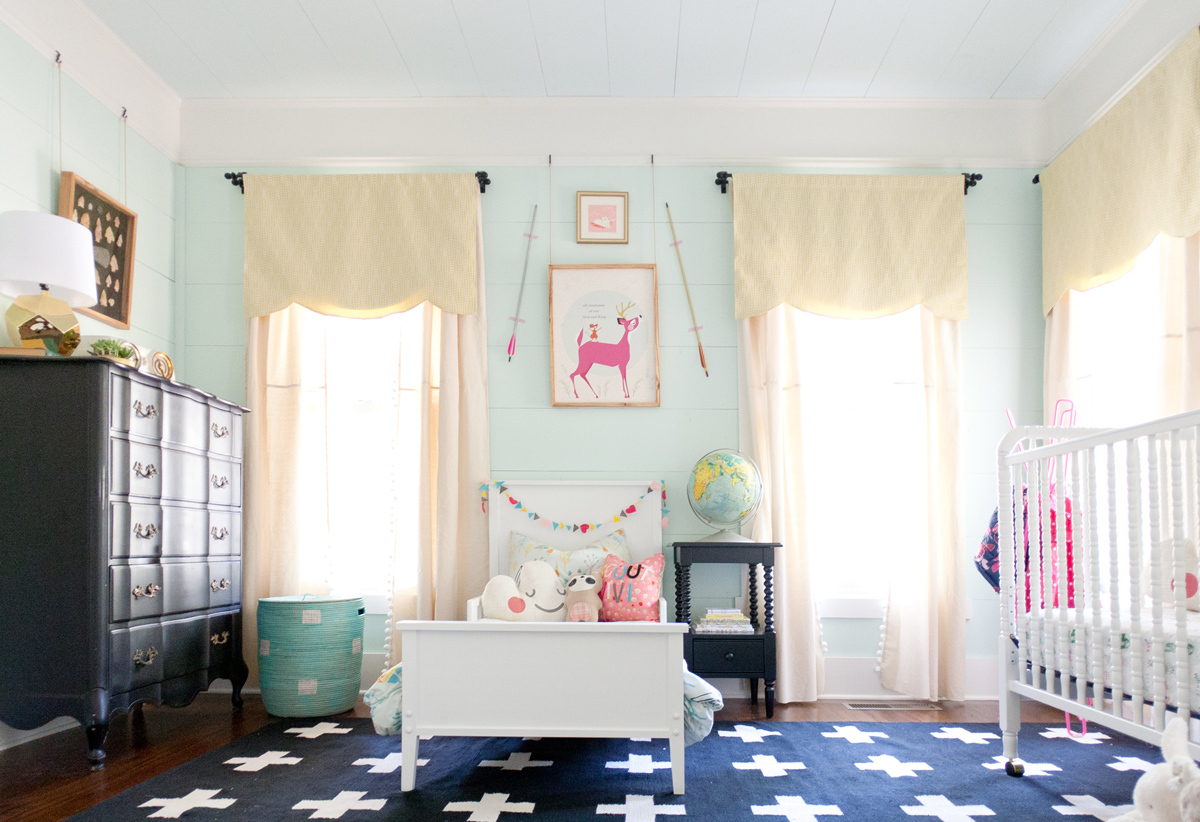 Vivi is crazy about her little toddler bed. I found it to be a great solution to save some space, and she is enchanted with it. It's actually a bed I purchased secondhand, and I enlisted the help of my father (i.e. he did it for me!) to replace the headboard and footboard and then we painted it glossy white. I also love the bedding; it's a twin duvet and cover from the Land of Nod. I cut them both in half exactly and just stitched up the edges (adding a zipper to one of the duvet pieces so it is still removable) which left me with the perfect toddler bed sized duvet and a fluffy blanket to use elsewhere. (Charming Hamper, Jenny Lind Nightstand)

The black dresser and the white changing table are both vintage, and I love how the Jenny Lind crib and adorable nightstand fit in with it so perfectly! Those arrows are just taped to the wall with washi tape, and the curtains are painter's dropcloth leftover from my sister's wedding which I stitched into panels with pom pom trip added to the edges. (Cloud Pillow; Woodland Animal Art Panel One & Two; The Greater Outdoors Bedding)

That metal tole chandelier was a last minute find from one of my favorite secondhand/antique shops, and I think it adds the perfect little bit of girly charm to an otherwise understated girls' room. The yellow and orange tie in perfectly with the bedding! I created the art panels with the woodland animals just for the room, which Daddy custom framed with heart pine. I wanted them to have the feel of pages from a vintage children's books. (You can purchase prints here and here, and I'm planning to add another text option here soon. Here is the source for that cute little dog picture.)

I adore that gold lamp from the Land of Nod; it adds the perfect bit of polish! The arrowhead art is one of my favorite details. All of those arrowheads and that tomahawk were found close to this house, and we attached them with copper wire to painted black pegboard. (Gold Lamp; Jenny Lind Nightstand)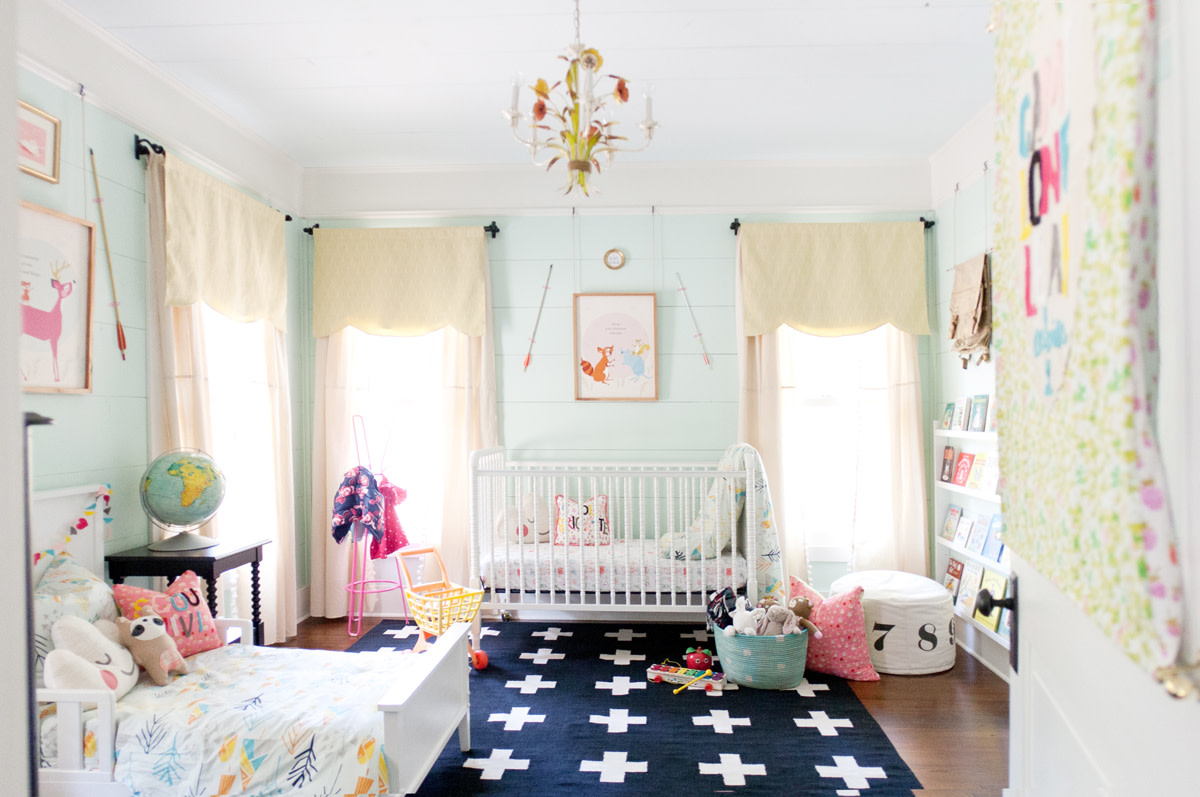 The crib is the Jenny Lind we used for Vivi, and it's so sweet and perfect. I really can't recommend this crib enough; you can't beat the price and they really go so well with any look (and the black version is stunning, too!). (Numbers Pouf; Pink Coat Rack; Charming Floor Bin; Greater Outdoors Bedding; Field Guide Crib Sheet)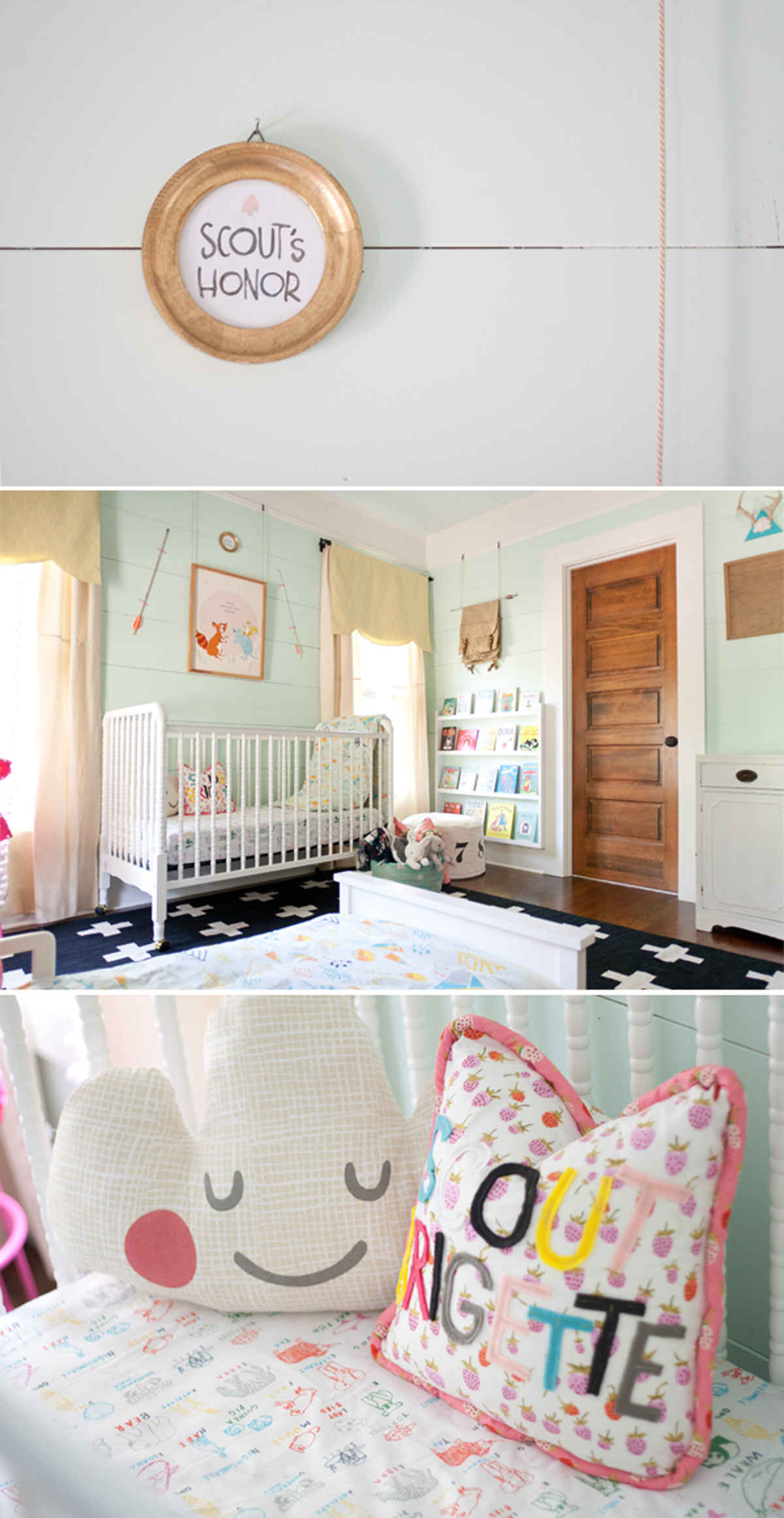 I adore that field guide crib sheet, and it's fun to talk about all the little animals and colors on it. The cloud pillows add the perfect whimsical touch, and I added little "scout" pillows to their beds. I'll post a tutorial here soon. It's really pretty simple. That pouf provides the perfect spot for reading and playing. (Cloud Pillow; Field Guide Crib Sheet; Numbers Pouf)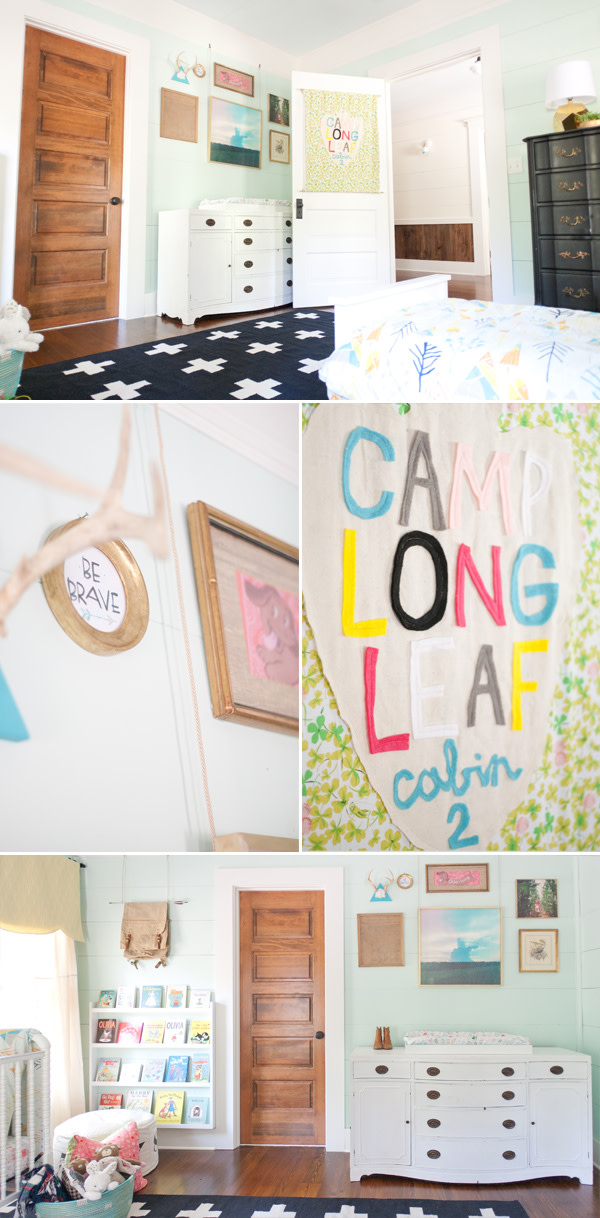 The changing table is a vintage buffet, with a changing pad tray added, and a matching adorable field guide pad cover. That photo in the middle is of the sunset over the field where Chip and I were married. The artwork is all hung a little high, out of reach of kicking little feet and grasping little hands! (Field Guide Changing Pad Cover; Changing Pad Tray)

I'm pretty crazy over this little reading corner. We hung that vintage boy scout backpack with an arrow, and suspended it from the picture hanging molding (as we did most of the larger pieces of art). I love that detail. Daddy constructed that simple little bookcase, and it's such a perfect solution for book storage without taking up any space. I'll be posting a tutorial on that as well; I know there are quite a few out there, but I figured I'd post it in case any of you are interested.
So there you have it! I hope you are inspired. Stay posted for those tutorials. I have to give a very special thanks to my father for helping me pull this together; he makes all my crazy ideas come to life and is so patient with all my requests. He is a true craftsman, and getting to work on such projects with him is such a joy! Thanks, Daddy!