on choosing a changing table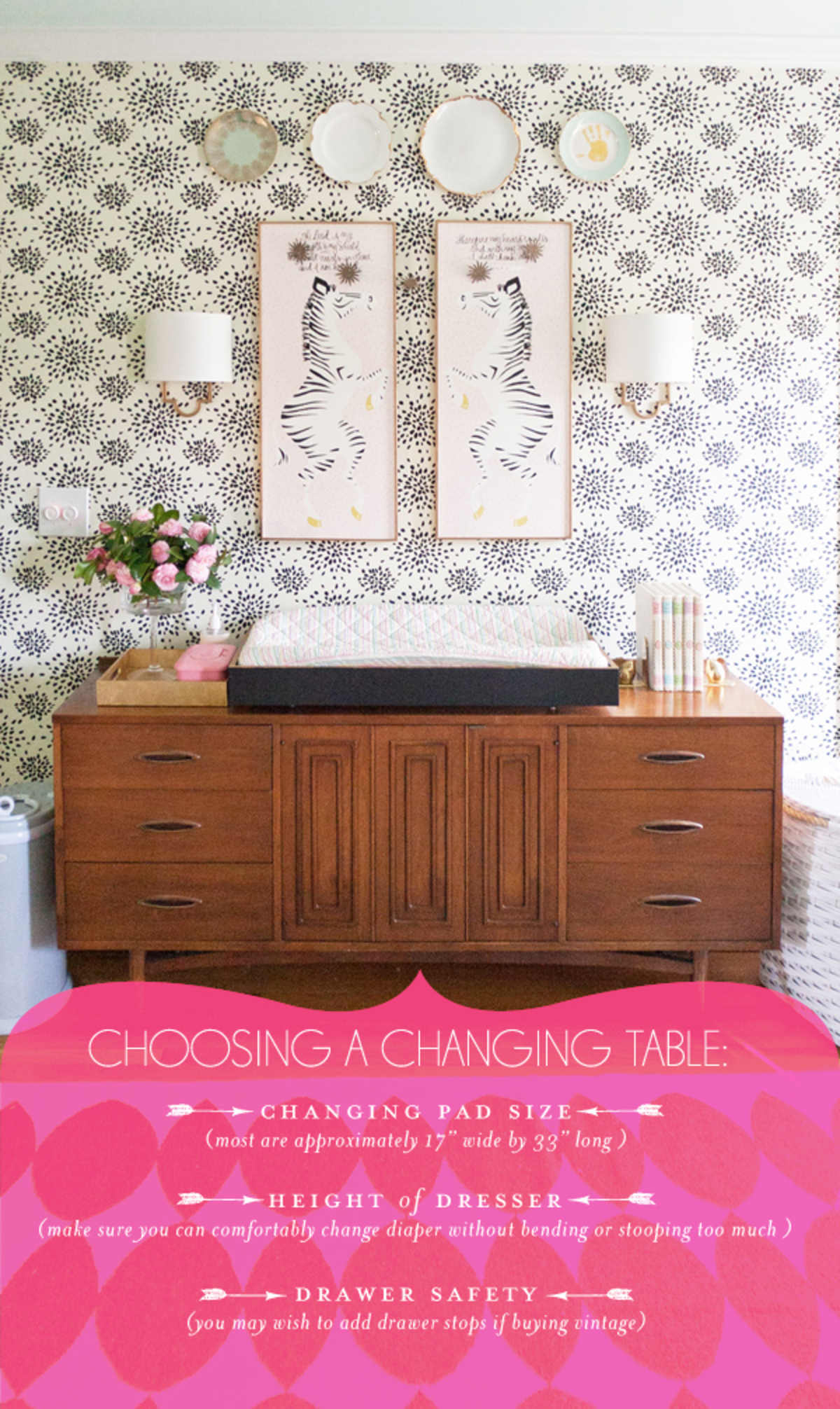 Recently, a friend of mine had a few questions about choosing a changing table, as she is planning on going the vintage route. I thought it might be helpful to post a few tips here, so you know what to consider when you aren't purchasing an "out of the box" model. Below are a few things to keep in mind:
(1) Most changing pads are approximately 17" wide by 33" long (although the Land of Nod versions are a bit longer, just so you know. I had a regular one for Vivi, and got the larger one for Brigette, and I actually like having the extra length). That being said, you need to find something with a top that is at least that wide and that long. It may be tempting to get a smaller dresser if you don't have a very big room, but think about other items you may wish to put on top, such as a lamp (which I have found extra handy in Vivi's room) or a tray or anything else. Brigette's dresser is very narrow, and the changing table just fits, to make sure you measure before you buy! I have seen quite a few dressers that are cute, but are too narrow for the pad to fit.
(2) Pay attention to height. Most "out of the box" changing tables are about 34" to 36" high for comfort. Many vintage (especially mid-century models) dressers or sideboards are much shorter. Brigette's is only 30" high, but we built a tray for the changing pad and added ball feet onto it, which gave it a little extra height, and it's perfect for me (I'm 5' 7"). It's probably a bit short for Chip (6'3"), but since I do about 95% of the diaper changing, it really isn't an issue.
(3) Drawer safety. Most vintage dressers don't have drawer stops. This isn't a problem until your squishy newborn gets bigger and starts sitting up and/or pulling up and gets adventurous. One of Vivi's favorite activities was pulling everything out of her drawers and re-arranging them, and while she never managed to pull one out, it would be safer to install stops. It's probably a necessity if you are having twin boys. I did a quick google search and found quite a few tutorials on how to do it, and it doesn't seem overly complicated, especially if you have access to anyone handy (Grandpa?).
(4) Just one last thing - I have found it to be a great idea to have something interesting to hold baby's attention at the table. We had a mobile over Vivi's changer, and Brigette is always entranced by her wallpaper. Both have been great to keep them happy and entertained while I dress/change/clean/etc. them. I have also found that both of them really loved laying on their little tables and looking at the wall or mobile - there was a time when it was one of the few things that would calm Brigette down when she got worked up, and I was so grateful. (Of course, don't leave baby on the table! Always make sure you are right there!)
(Zebra prints from here.)
I hope that's helpful!