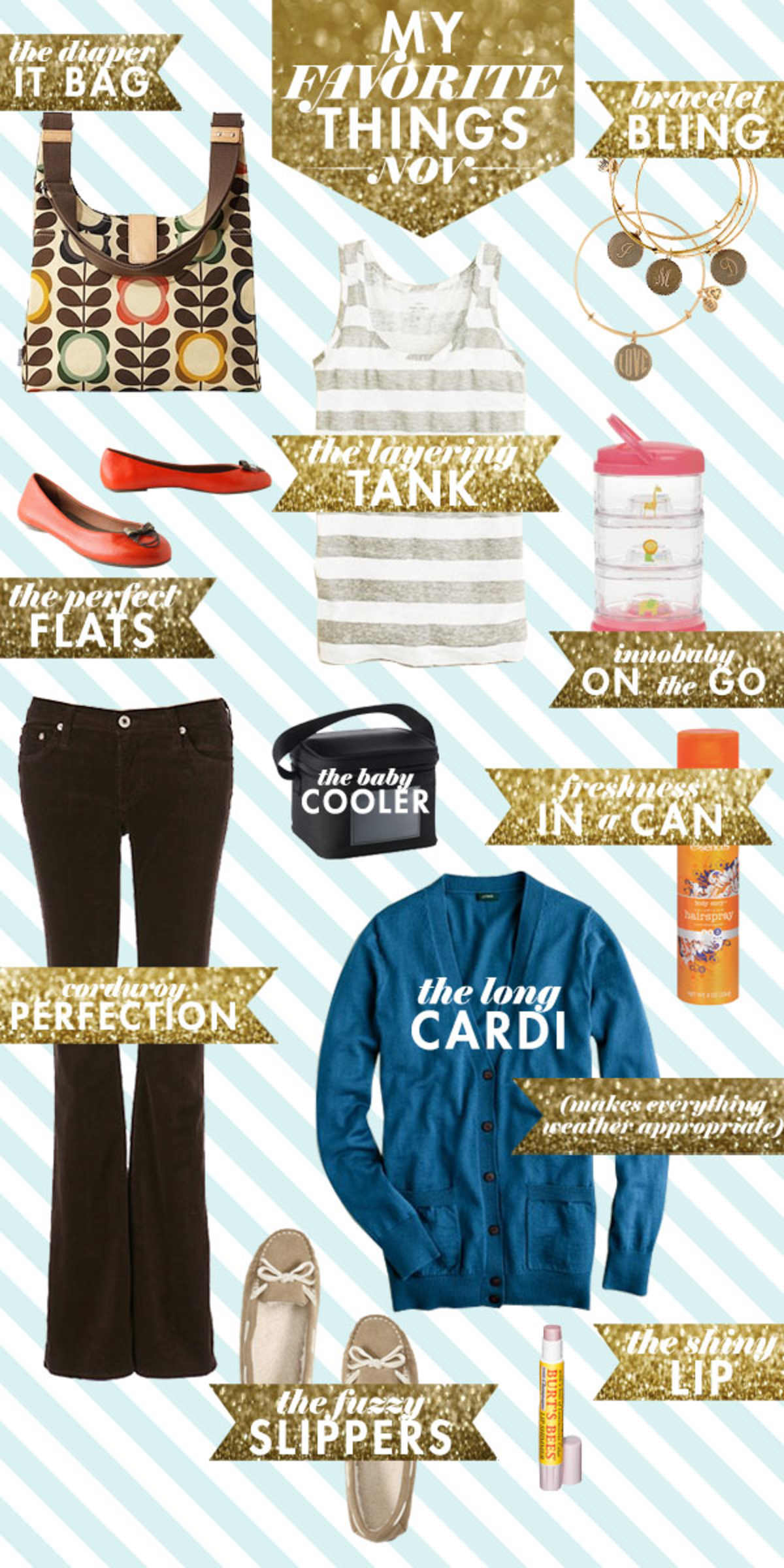 I'm always posting Vivi's favorite things, but above are my favorite items to have on hand that make my day easier and better.  The links to each item are in the pink margin to the right of the post, but here are my highlights on a few of the items:
(1) The Diaper It Bag - I have an Orla Kiely bag I purchased on sale, and it has been my favorite diaper bag to date, after trying a few different versions.  It's extremely durable, wipes clean, holds everything, and looks adorable.  I just can't say enough good things about it.
(2) Bracelet Bling - I love these bracelets.  They layer and stack perfectly, and are my solution to wearing some kind of jewelry, since Vivi's fascination with dangly and sparkly items makes me hesitant on the earring and necklace front.
(3) Innobaby on the go - This thing is a modular wonder.  Frequently, Vivi and I pack up after her morning nap to do necessary things, such as grocery store or hardware store runs, or sometimes fun things like going to the park or window shopping.  Afterwards, we have a little lunch date (usually at my favorite spot, Einstein's for a bagel and the best iced tea I have found in town) so I bring her lunch with us so she isn't solely limited to grilled cheese on the kids' menus.  You can stack up to five items (I usually put in blueberries, bananas, puffs, and peas in them) and they come completely apart for super easy cleaning.  Not to mention it is adorable!
(4) Corduroy Perfection - These corduroys fit like a dream, and are lightweight and comfortable.  They are my absolute favorites, and I have two pair in chocolate and charcoal.  Usually, you can find a pair on sale somewhere if you search for them.
(5) the Baby Cooler - This is just the cooler that came with the Medela breast pump, but I love it.  I joke that it's my $300 cooler, but I use it nearly every day.  It's perfect for tucking in a bottle or sippy cup, a couple of food containers, the ice, and then her bib and a spoon.  I also have a cut little card in the front with her name on it that makes me really happy.
(6) Freshness in a can - This hairspray is my favorite.  It's cheap, smells amazing, and works great on second day hair.  I spray it at the roots for extra lift.