how to install shiplap in a baby room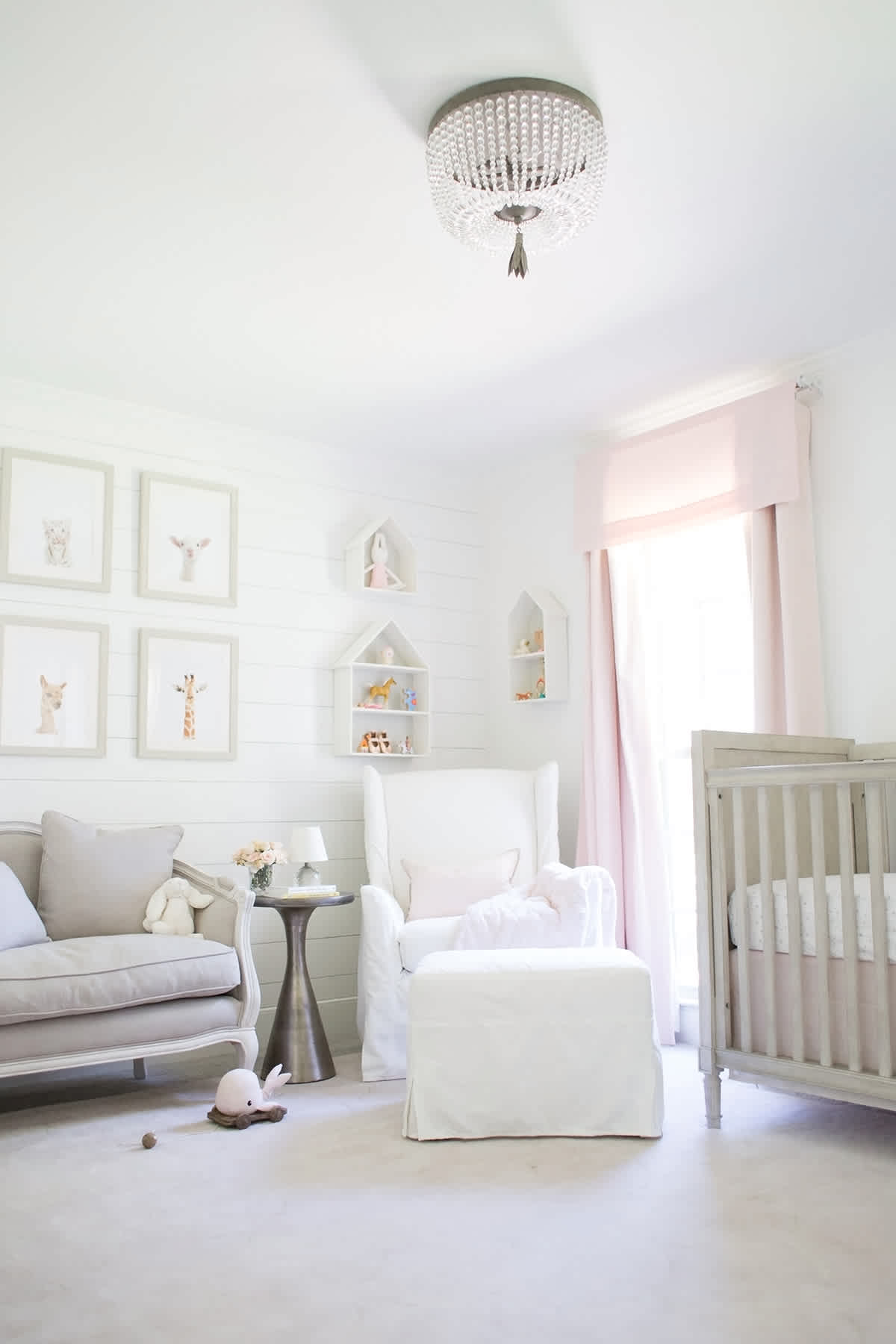 I just posted and shared baby Stella's sweet pink and white and gray nursery, and wanted to share some details about how we installed the #shiplap walls.  If you have never looked into it, it's really a much simpler process than you might expect!
(sources for above photo: Dauphine Crystal Flushmount; Wingback Glider;  Wingback Ottoman; Marcelle Crib in vintage grey; Scallop Rug in petal; Kenzie side table; Ondine Bench; Mini Lourdes Lamp; Petite House Shelving in dove; Canvas Drapery and Valances in petal; Baby Animal Portraits; Hush Little Baby Sheet Music; Pull Whale)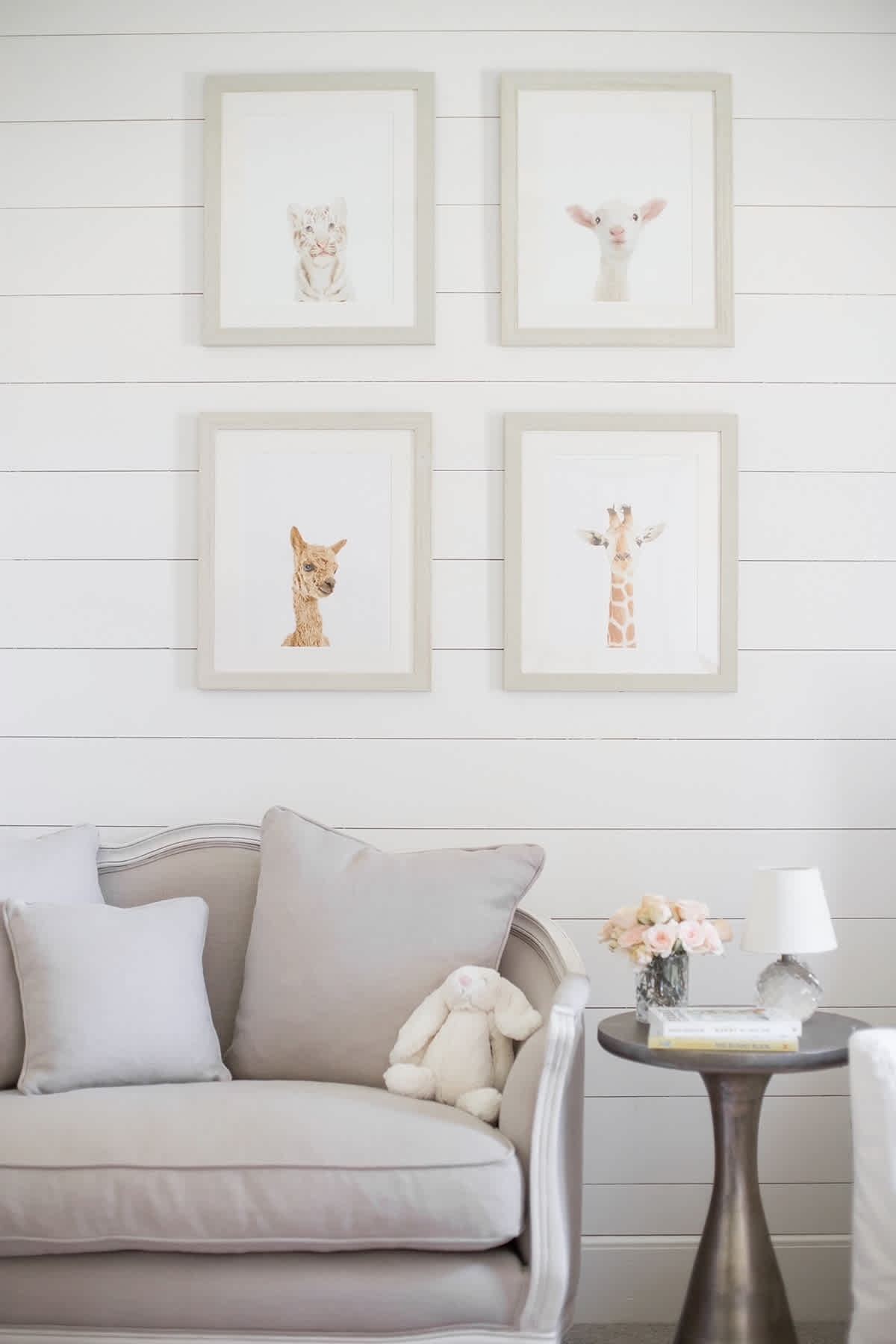 This is such a sweet and simple way to add detail and interest to a space!  Thankfully, my daddy took on the project for us, as he accomplished the shiplap installation in about half a day!
(And how sweet are those animal portraits?  They have so much personality!)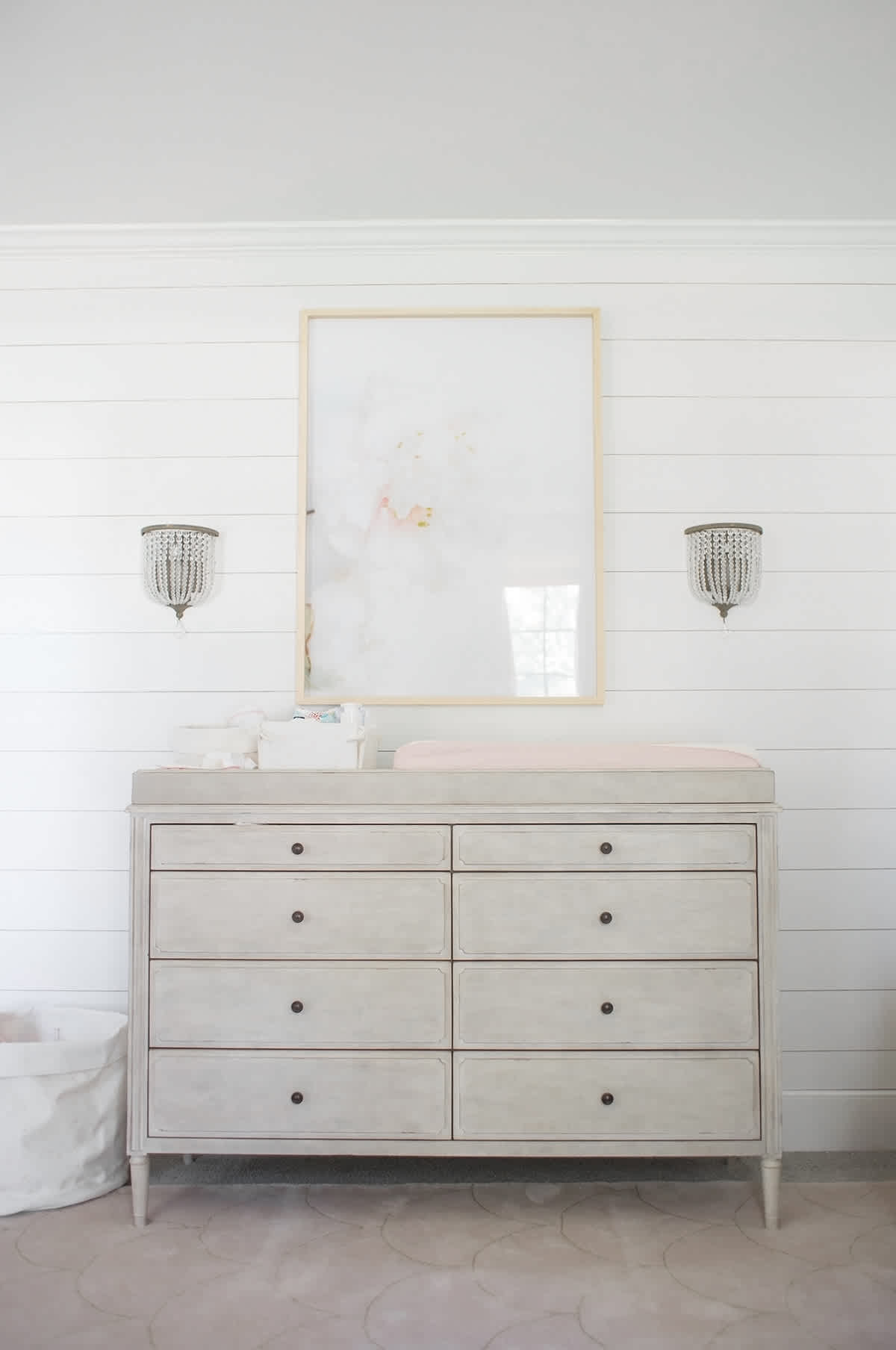 We decided to use the planks on two walls to make it easy.  We chose the two that didn't have windows or doors, so there was no tricky cutting or measuring involved, and best of all the cost of the project was less than $150 in materials.  Technically, this is not actual shiplap, as actual shiplap planks overlap, and these are simply boards carefully spaced to achieve a similar appearance.
(sources for above: Marcelle Wide Dresser and topper in vintage grey; Pink Star Canvas Storage; Camellia Print; Dauhpine Crystal Sconces)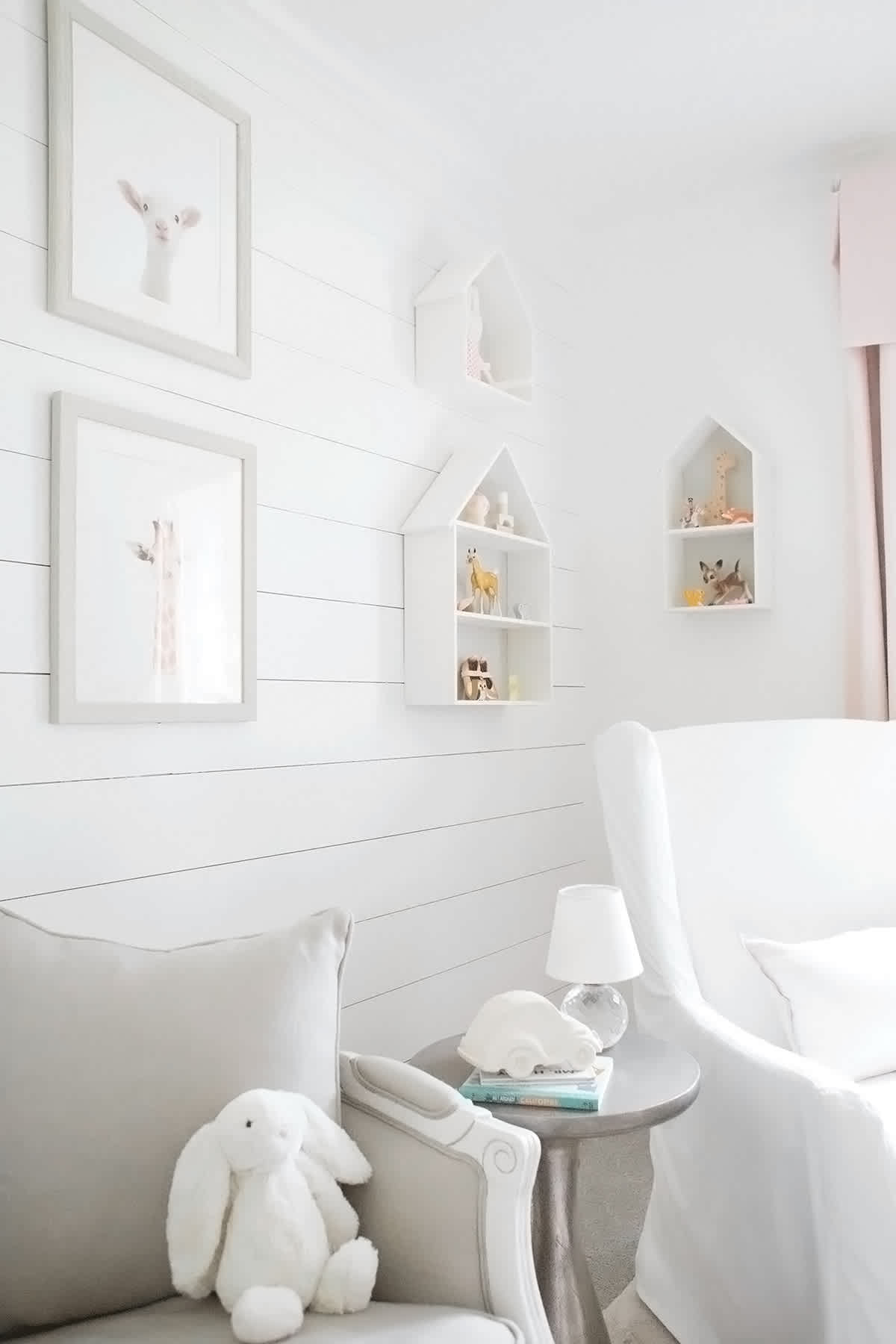 We followed a very similar process to this video, which is super helpful.  You simply purchase plywood, have it cut into 6" wide strips (or as wide as you would like), start at the top of the wall with brads, and then use nickels to space them.  We used 1/4" birch plywood, which has a nicer finish that you can stain, pickle, or paint, depending on what look you want.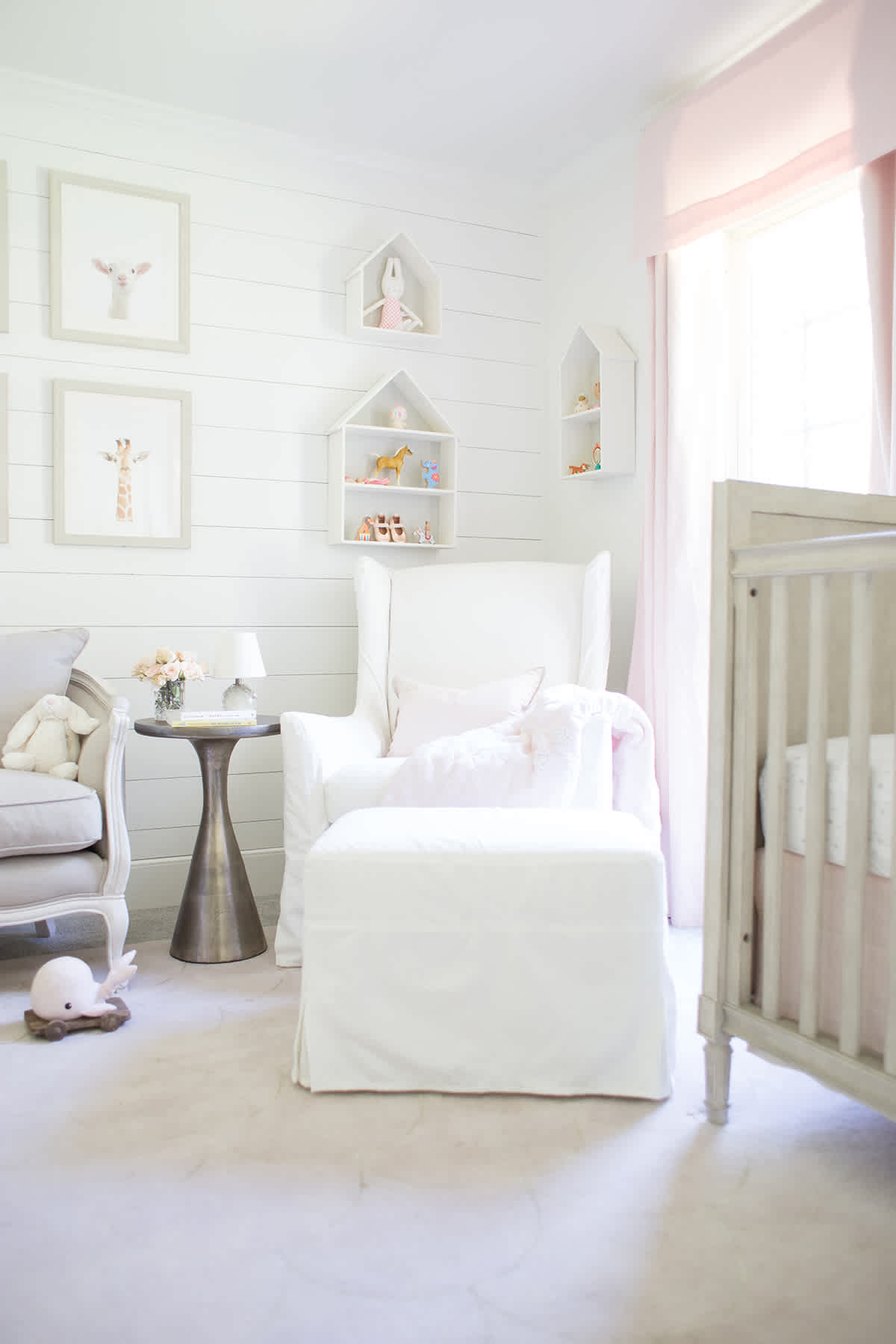 Let me know if you have any questions about the details on how we did this!  I love how it came together, and it's such a fun way to transform a space!  (See more details on this nursery here!)