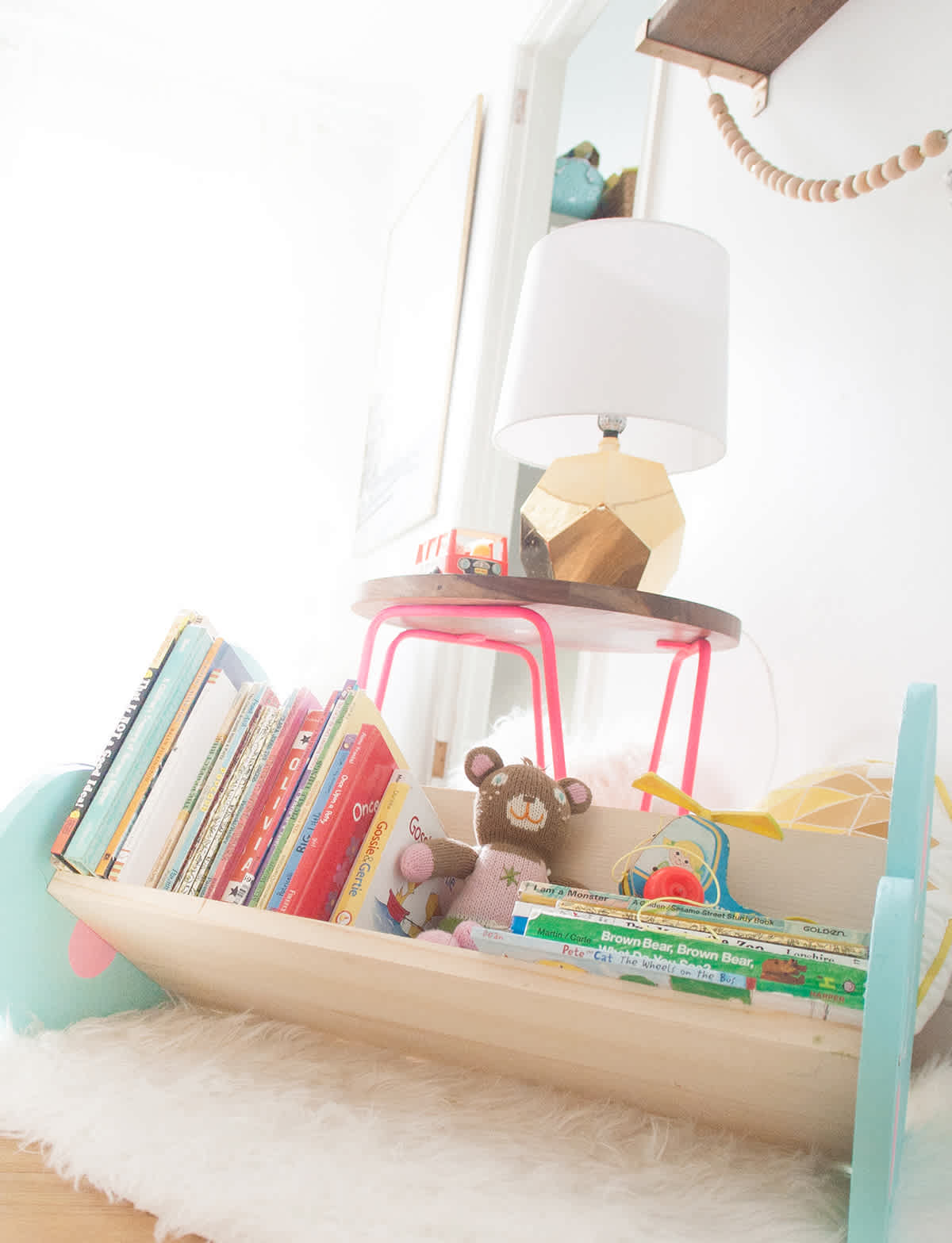 (Pictured with the Between a Rock Lamp, Pink Neon Nightstand, and DIY Tassel Hanging.)
I don't know about you, but storing/organizing books always seems like a struggle.  I love that Vivi has such a penchant for reading, but sometimes the endless piles drive me a little crazy.  Lately, she has taken to making little stacks here and there, rather than keeping them in the bookshelves, so I thought a little book bin might keep them somewhat contained and scratch her itch for stacking them in piles.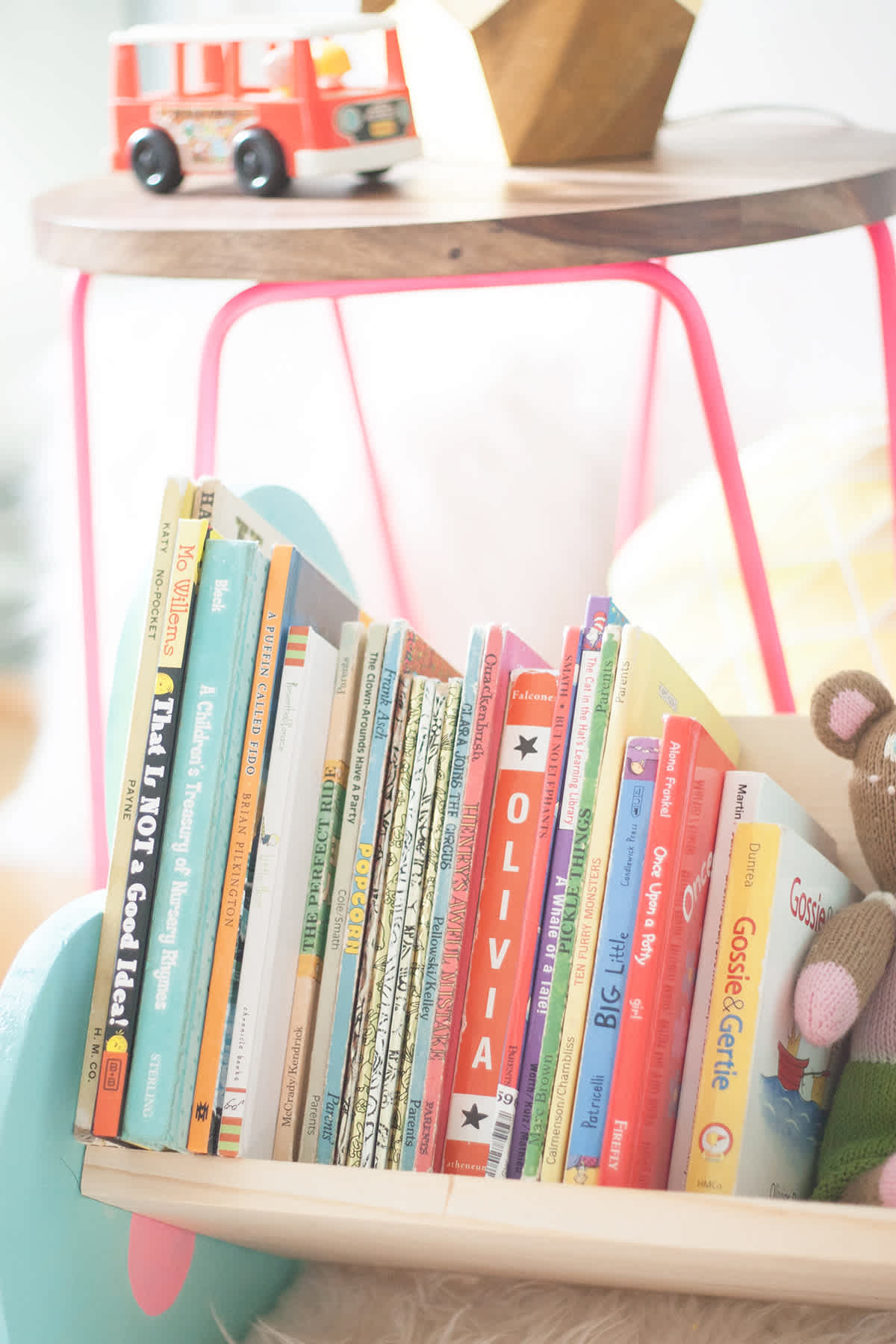 I've seen similar designs to this here and there, but I just wanted to tackle it myself to hopefully save a little, and also use the colors I wanted.  Here is what you need to get started (I picked up all the hardware items at Home Depot): 1 x 10 x 4 common board | edge glued board | jigsaw | 12 #6 1-/14" brass screws | drill | measuring tape | chalk or pencil for drawing cut lines | acrylic paint for design | paintbrush First, cut the common board into two 24" pieces (and honestly, you could go smaller!  I think 1 x 8 would work just as well, if not better, and you could cut it down to 18").  You may need an extra pair of hands to help you hold the two pieces together at a 90 degree angle and put four screws to join them together. Next, trace the outline of the edge of the joined pieces onto the edge glued board.  Sketch out a shape around it, and make sure to do this along one of the flat edges, so it will sit flat on the ground.  I did a heart, but you could do a cloud, or any other shape you feel adventurous enough to create. Cut out the shape with a jigsaw (or have the handy person in your life do it for you!).  Trace the cut shape and cut out a second piece.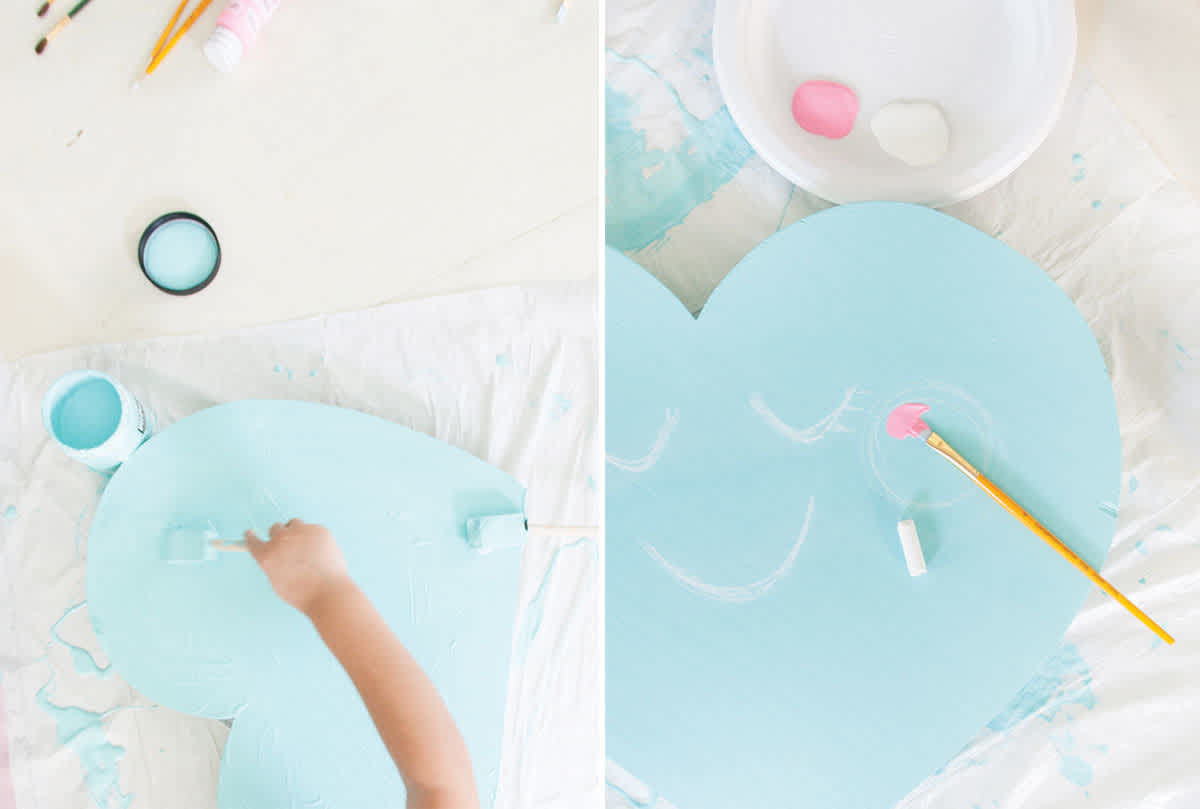 Next, paint the shape. Vivi loved this activity!  I added a little face to the heart, and I did this by sketching it out with chalk before painting it, just to make sure I was happy with it.
Next, I held the inside shelf part against the heart shape, and traced underneath it with chalk.  I did this on both sides, and measured to make certain the chalk lined up, and then screw in four brass screws to hold it together.  Do this on both ends, and you'll have a book bin!  You may want to pre-drill (that's what I did) since the wood is so soft.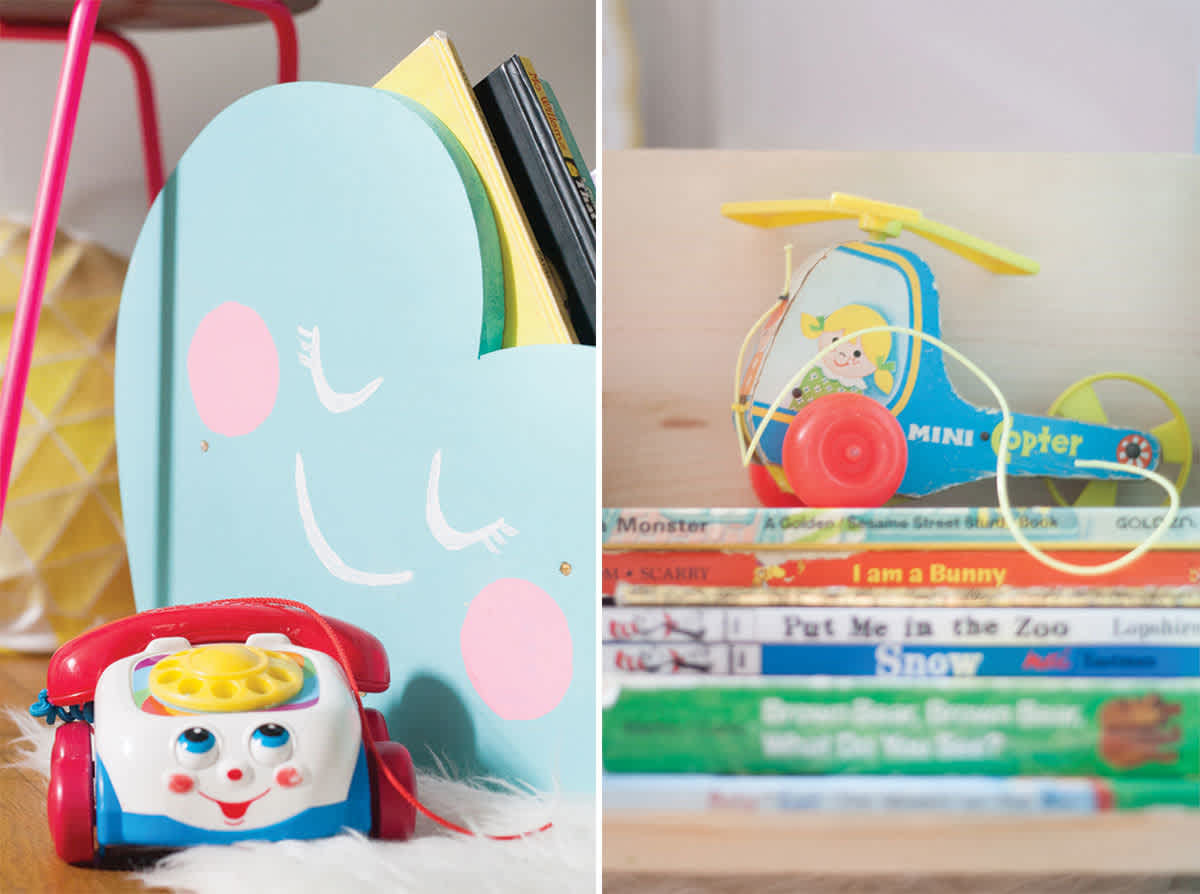 Vivi seems to really like it so far, and Brigette thinks it's her personal reading bench, so I'd say it's a win! (Pictured with the Between a Rock Lamp, Pink Neon Nightstand, and DIY Tassel Hanging.)
And, just for fun, a shot of my favorite shelves (reclaimed wood + painted gold IKEA brackets):
Let me know if you need any clarification on anything - it's kind of tough to photograph the process, but I'm happy to answer questions!