Christmas 2020 Girls' Gift Guide - for little girls and big girls!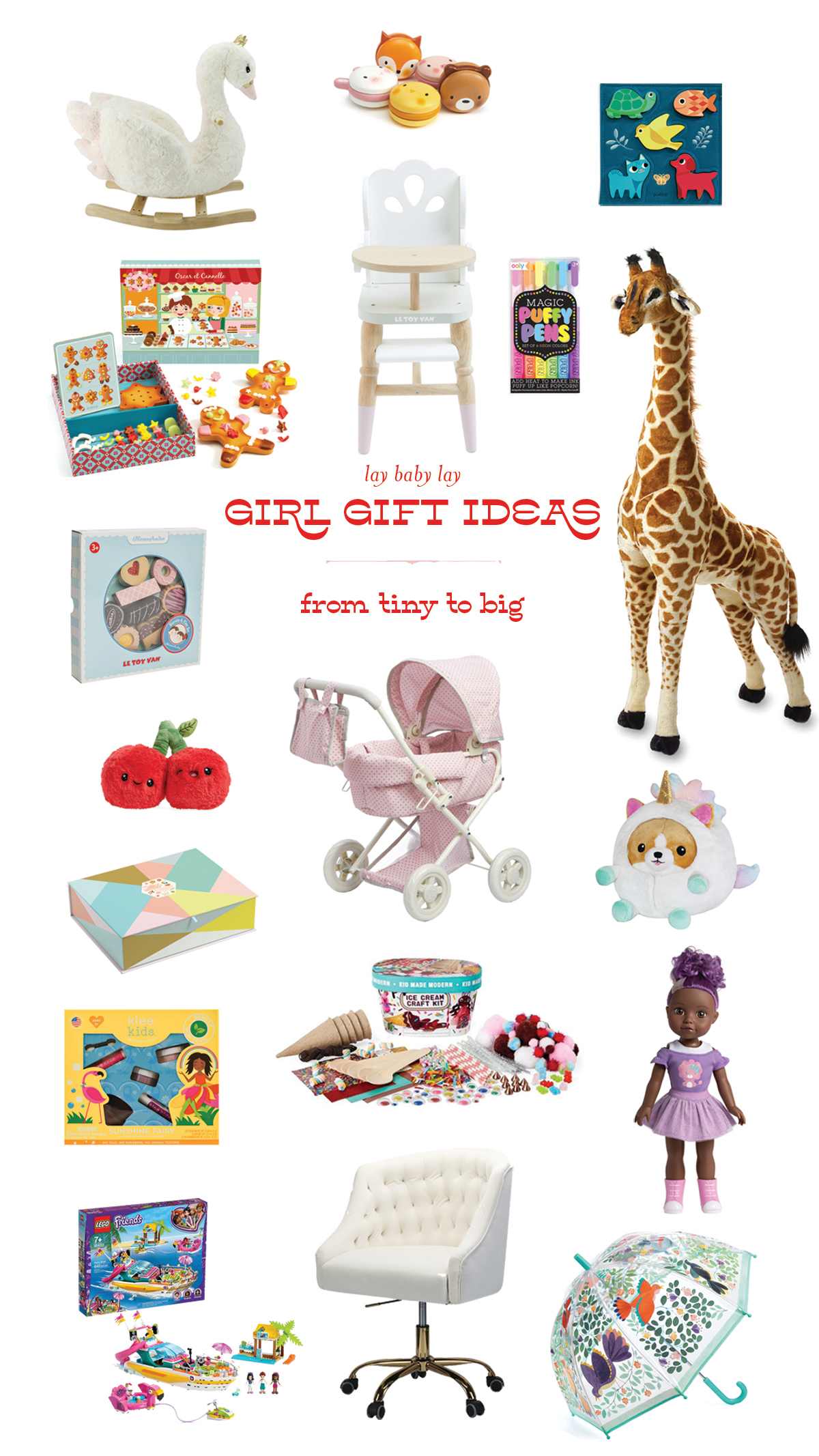 Sometimes I feel like I might be the only last minute shopper - or really, I don't even feel like I'm that last minute. More like right on time - but the rest of the world seems to shop early? I feel like with a mid November and early December birthday in our house, it's just hard for me to get into gifting gear until we have celebrated those! Anyway, here is a list of some super fun and special ideas for girls, both big and little and in between.
(1) Swan Rocker - Marjorie got the flamingo version for Christmas last year, and it's not only fun, but also beautiful!
(2) Animal Macarons - Play food is always a big hit in our house for playing pretend, and these would be the cutest for a play kitchen or a stocking stuffer.
(3) Animal Puzzle - I love that this is a puzzle, but the little characters are cute enough to also play with! It's like two presents in one.
(4) Bakery Pretend Play - Djeco always makes the most delightful little things. Just search for that brand and you will find all kinds of amazingness that feels special and one of a kind! I love this little playset that is part game, part pretend play.
(5) Play Food - again, we can't get enough of cute wooden pastries.
(6) High Chair - this might be the cutest baby doll high chair I've ever seen.
(7) Puffy Pens - these super fun pens puff up when you use a hair dryer on your drawing! So fun, and tween perfect. Treehouse has all kinds of special goodies for stocking stuffers.
(8) Giant Giraffe - Brigie got this gal for Christmas a few years ago, and she is still a favorite. Buy a baby one to go with it, and it's a super fun gift. Brigie puts her in different outfits almost daily.
(9) Cherries - my girls always love any stuffies that are over the top cute and unique. Plus, this is one that almost doubles as a cute throw pillow for your bed.
(10) Baby Stroller - affordable and adorable.
(11) Unicorn Corgi - a corgi and a unicorn IN ONE.
(12) Stationery set - this set is a great little tweeny gift with lots of goodies inside.
(13) Kid Made Modern Ice Cream Craft Set - I love Kid Made Modern sets. We have gotten/been given a TON of craft sets over the years, and I really appreciate those that are more open ended, which all of KMM ones are. There is no plastic piece of machinery required to use it, my kids can do it on their own without my help, and that is awesome. They are always thoughtfully packaged, too. I'm also a BIG fan of their classes, and that makes for a super fun gift that keeps on giving, too!
(14) Be Bright Doll - these dolls are so sweet, and their hair changes color in the sun! There is a range of hair colors, and I don't know which one is my favorite. They are 14".
(15) Klee Kids Makeup - There is nothing yucky in this sparkly makeup, making it another perfect tween gift. It feels young, but it's real at the same time.
(16) Lego Friends - my girls will play with these sets for HOURS. They are their favorite, and there are a ton of options out there. They will also take them apart and re-assemble them into different things.
(17) Desk - I think this is a great tween gift. Find a vintage/used desk on the cheap and refinish it and get a really adorable office chair. Fill it up with office supplies, post its, fun pens, all the things. This is what I'm doing for Vivi, and I know she is going to love it!
(18) Umbrella - rain or shine, a really cute umbrella is always a favorite for my girls!
Also, I forgot to include this play tent - it is the CUTEST and so affordable!
Hope that helps! I know it's coming a bit late, but maybe it will help with some of the remaining items on your list!