a kitchen renovation with the home depot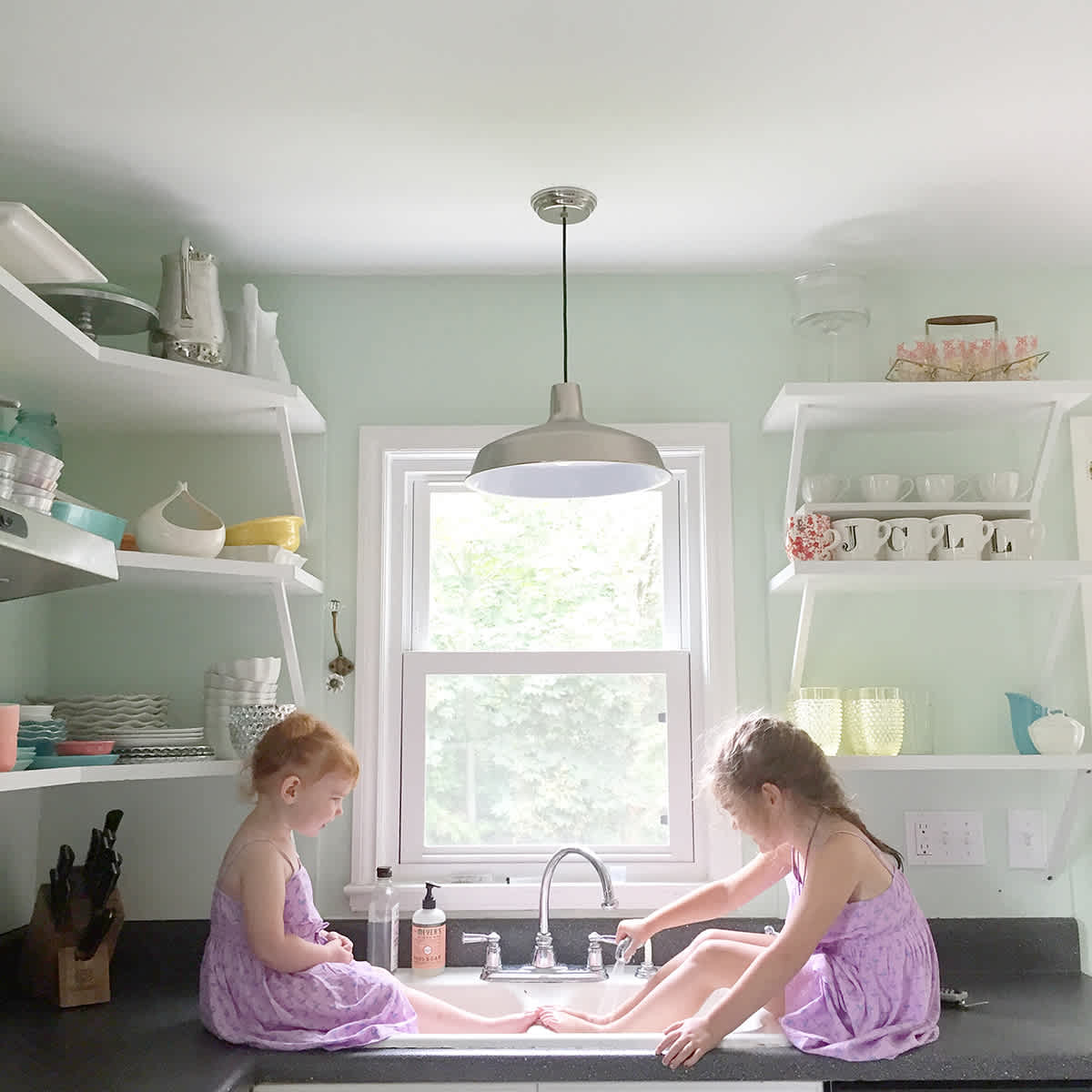 When Chip and I moved into our little bungalow seven years ago (can't believe it has been that long!), we didn't see kids on the near horizon, and what was a sweet, cozy home seemed very spacious for the two of us.  There were many things that were less than perfect, but the charm of this home captured our hearts.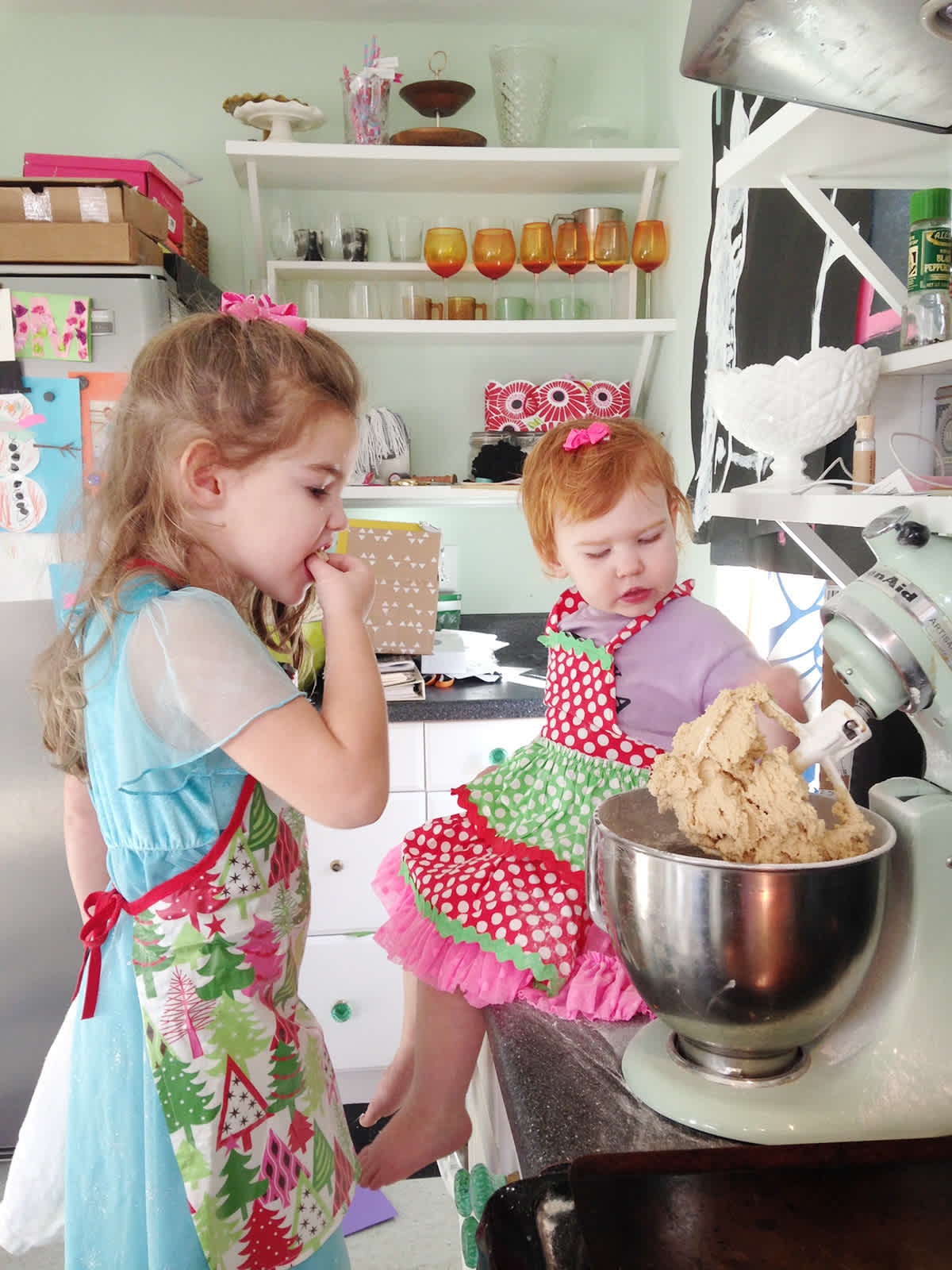 I have to say that when we bought this house, I didn't think much about the kitchen other than thinking the black and white checkerboard tile was cute.  I didn't really get the hype behind kitchens; I mean, it would be great to have a nice kitchen, but as long as it is functional, that is all that matters, right?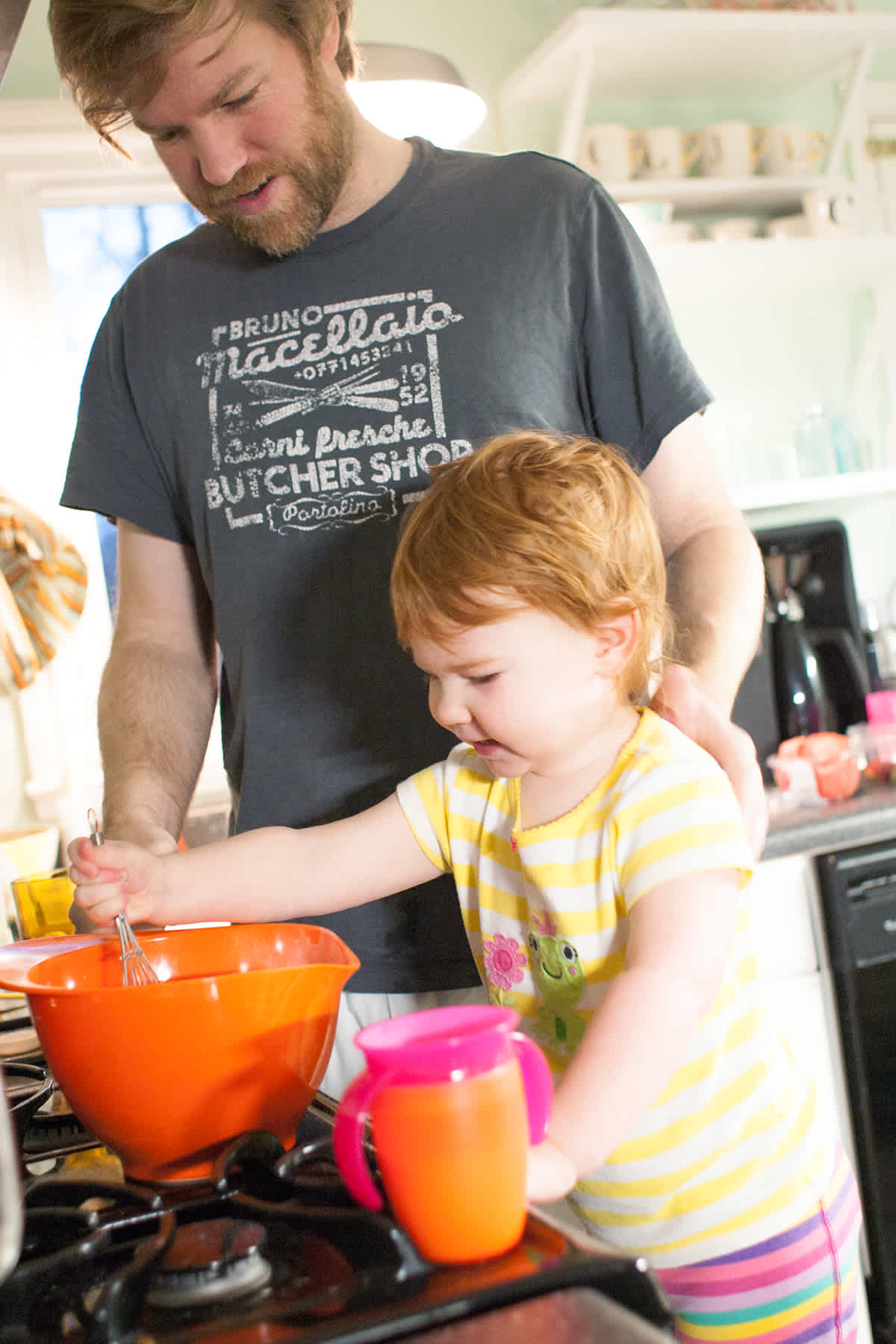 Fast forward seven years, and two (nearly three!) kids later, and I completely get the hype.  I spend a crazy amount of time in that space and what once felt adequate has suddenly become cramped and stressful.  The laminate floors are starting to come up, the inexpensive particle board counters are chipping, and the black paint is rubbing off the appliances when they are cleaned.  Plus, we turned our dining room into a nursery and we have also crammed a round table into this small space for us to eat, making things even crazier!
Chip and I considered moving when we found out baby three was on the way, but we really love our neighborhood.  We love the location, we love the spacious yard (which isn't really common in Atlanta!) and we still do love our home and the precious memories we have made here.
Sharing bedrooms doesn't bother me; but not having a comfortable space for us to have family suppers does, and the fact that it is such a challenge to comfortably teach my girls to cook and make it a family experience is a problem!
Because of all this, when we were presented with the opportunity to work with The Home Depot on a kitchen renovation, we gratefully jumped at the chance and got to work dreaming up what all we would change!  As you can see above, it's a small space, and despite our efforts to freshen things up with some DIY open shelving, the cheap countertops and existing cabinets were in desperate need of replacing.
We also felt really confident about working with a team who has infinite experience and expertise with kitchens; we have considered a kitchen reno in the past, but quickly got overwhelmed figuring out where in the world to begin, and how to make it work.  Home Depot is a one stop shop, though, with a kitchen designer in house, and a services team to execute the plans, so everything comes from one source!  We are really excited, too, about a completely custom set of Thomasville cabinets to really make efficient use of the space (not to mention make it more beautiful!).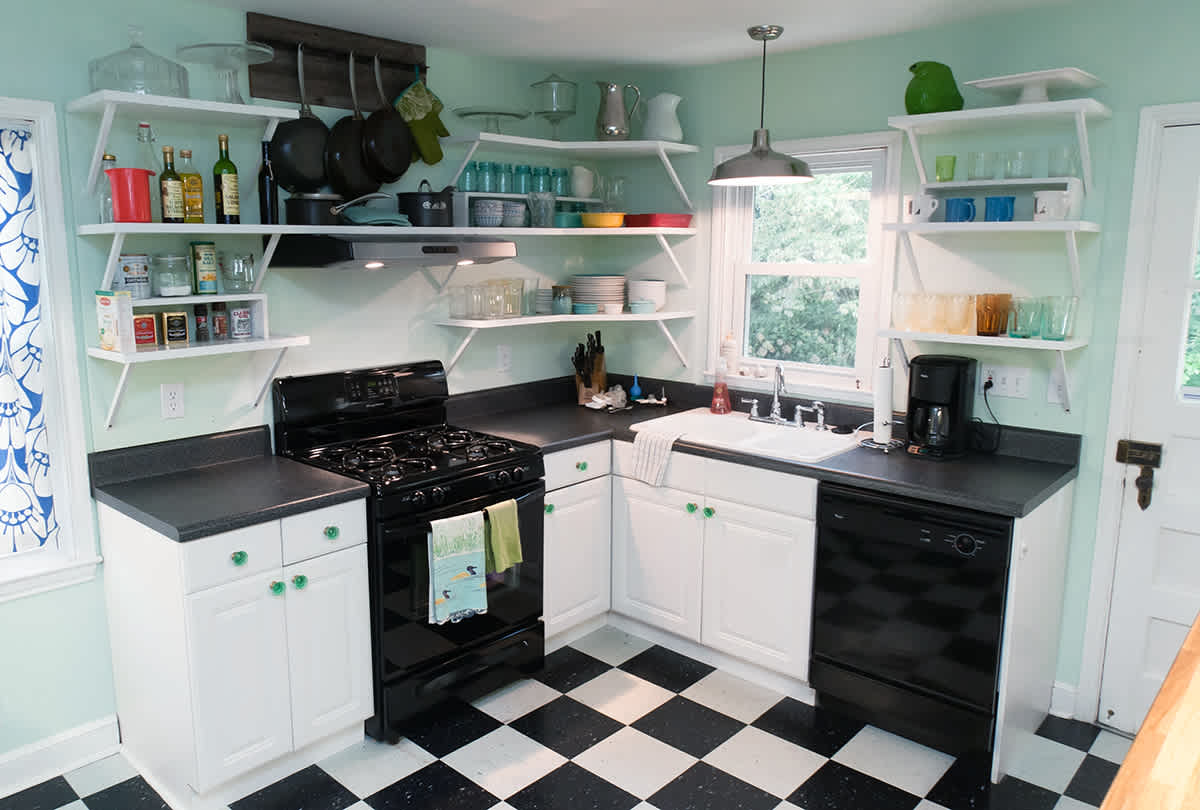 The kitchen actually gets a lot of light, with two windows, and a door with windows, but the dark counters and appliances seem to soak up all the light, and the floor I once thought was cute just feels busy, especially when the girls are in there playing while I cook (plus it has begun peeling up, which is a problem!).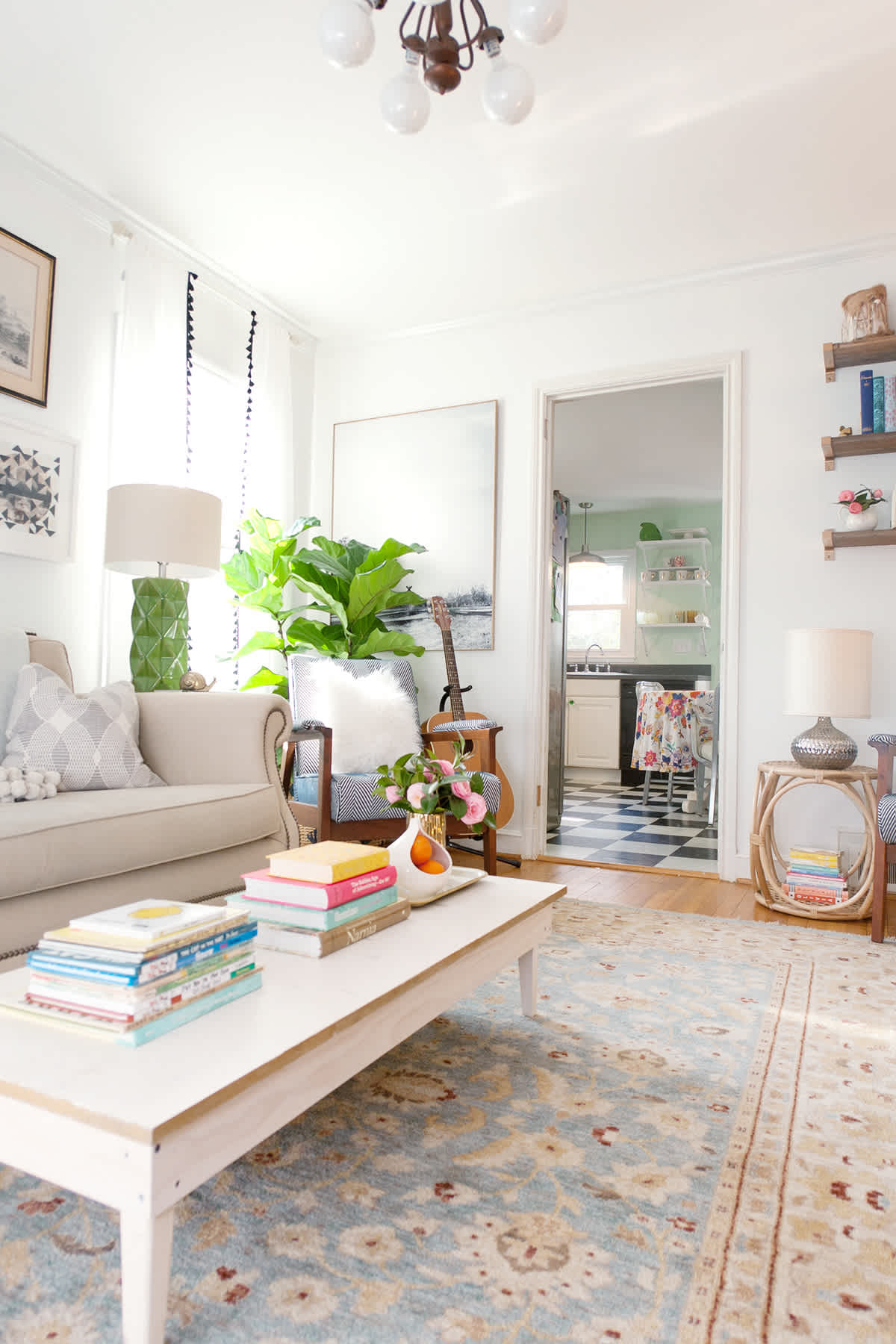 Since living here, I often daydream about knocking out the above wall between the den and the kitchen to open up the space.  I'd love for the girls to be able to play where I can see them (especially with another little one on the way!) but it's entirely too cramped for them to be in the kitchen with me all the time.  (See our little table above where we eat?).  It's been on my to do list to build a banquette into our sunroom, but that room isn't temperature controlled because of the old windows, so it would be more ideal to have something in here.
With all that in mind, I started pulling together some images for inspiration, and Chip and I sat down for about five hours (!) on a Sunday afternoon hashing through what would make the space work better.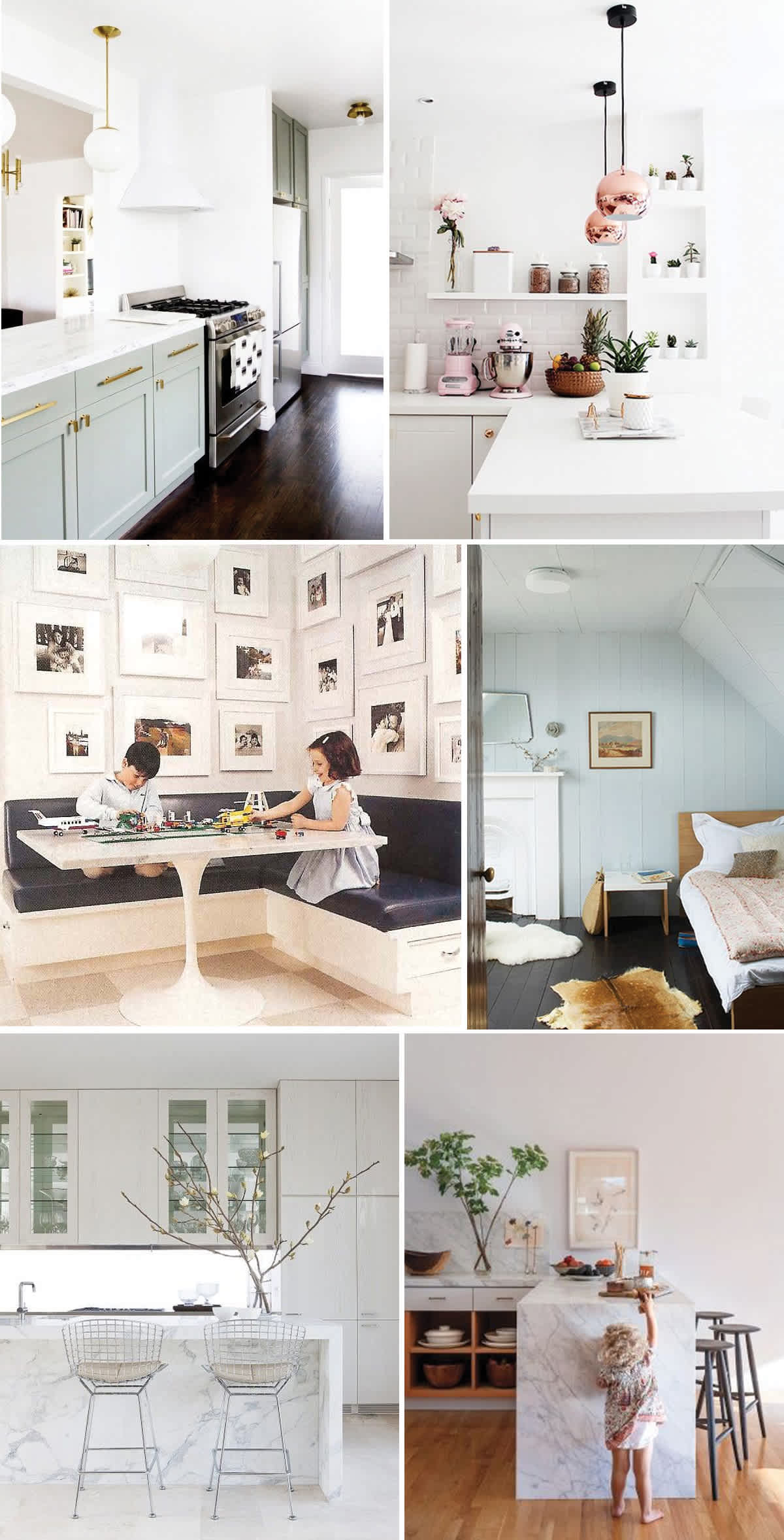 (See my kitchen crushes pinboard here and my dining room pinboard here.  Sources: Sarah Sherman Samuel's gorgeous kitchen; a feminine french kitchen; kid-friendly banquette; blue bedroom (love this color scheme); marble waterfall counter; simple white kitchen)
Overall, I craved a much brighter, lighter look with a more modern feel (with a bit of vintage thrown in!) and I love the mostly white with pops of a powdery blue and some matte black.  With kids, life just gets plain messy, and a clean bright uncluttered space takes away some of the stress that comes when things appear too busy.  The new cabinetry from Thomasville will also help lighten the space, since there will be so much extra space and organization for the visual clutter that often comes from kids and a busy kitchen.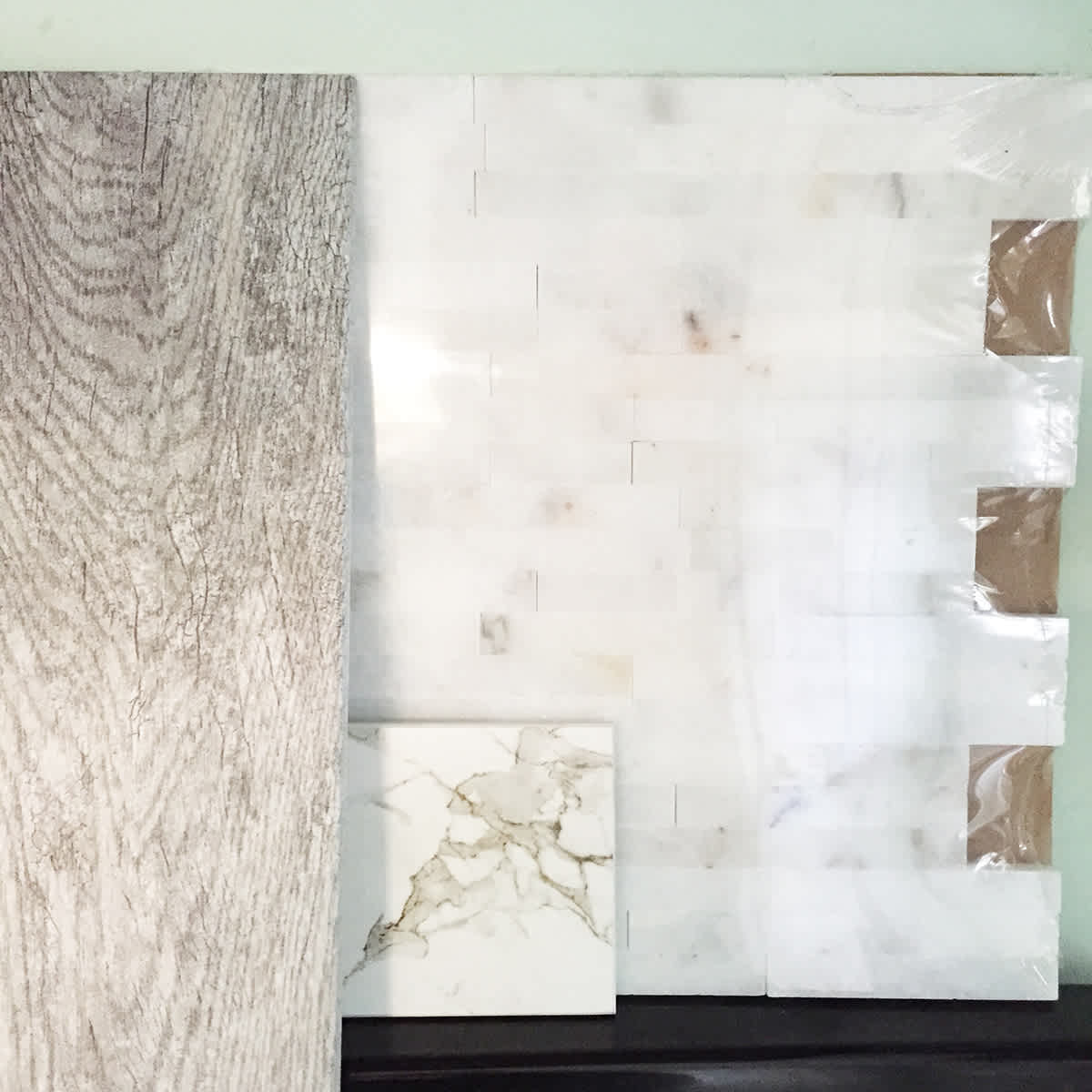 After a considerable amount of back and forth, we started with this Jeffrey Court backsplash, this Dekton countertop, and these gorgeous wood porcelain tiles (which are much lighter in person), paired with some considerably brighter (and considerably updated!) Electrolux appliances.  We will be pairing it all with Thomasville cabinets in a bright Eden White.  We considered using a dark counter, because we were a little afraid the veining might feel like too much on the counters, but I just felt better about going brighter, and we definitely made the right choice.  We met with an expert kitchen designer at The Home Depot to finalize our plans and get things started.  The entire process should take about six to seven weeks after we give the final approval on the plans.
As for our floor plan, we'll be knocking out that wall (yay!), and moving things around a bit. It's going to be amazing, and I can't wait to share the final result!  Follow along on instagram for a few sneak peeks and a little about what our experience without a kitchen is like!  We are so excited to complete this project that will literally change the way our family functions, and that will enable us to stay in this loved place for many more years!